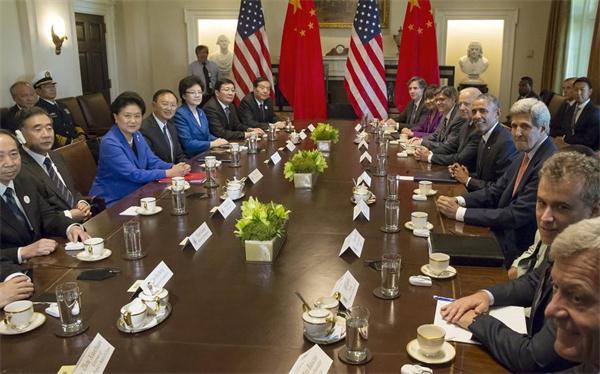 U.S. President Barack Obama (4th R) and members of his cabinet welcome Strategic and Economic Dialogue principals, including China's Vice Premier Wang Yang (2nd L, with earpiece), Vice Premier Liu Yandong (3rd L, in blue) and State Councilor Yang Jiechi (4th L) in the Cabinet Room at the White House in Washington June 24, 2015. [Photo/Agencies]
The US State Department in Foggy Bottom in Washington looked quite different from the rest of the year early this week when the 7th China-US Strategic and Economic Dialogue and 6th China-US High-Level Consultation on People-to-People Exchange were held there.
The hallway was decorated with posters full of Chinese characters welcoming the delegates. Chinese and American national flags flew side by side in major meeting rooms. The directions to the press center, restrooms and even a press smoking area were in English and Chinese. I even teased a State Department official about how they knew that journalists go through the same stress as diplomats and thus need the customary smoking break.
There was definitely no sign of hostility or confrontation in Foggy Bottom, unlike that seen in the media and among some pundits when it comes to the relationship between the world's two largest economies. Yes, sensitive issues such as the South China Sea disputes and cyber security remain to be resolved - and may need a lot of time to do so - yet the gathering of hundreds of people from the two countries to discuss a wide spectrum of bilateral issues showed that both want to work together to expand cooperation and manage differences, which is exactly the goal of the S&ED and CPE.
There were 40 minister- and vice-minister-level officials from China, a clear demonstration of engagement by the Chinese side. The same was true of the US as President Barack Obama met with the Chinese delegates on Wednesday afternoon and Vice-President Joe Biden delivered a speech at the opening ceremony on Tuesday.
The China-US relationship has certainly matured, because some Chinese and US officials said they could now talk about anything and not really raise the temperature in the room. Indeed, there is more to China-US ties than what the daily news headlines convey.
When I covered Vice-Premier Liu Yandong's trip in Pittsburgh, Pennsylvania, on June 19 ahead of the CPE where she co-chaired a meeting with US Secretary of State John Kerry, I could feel that a solid foundation for the relationship is being built. The evidence was there, from American students studying Chinese at the Confucius Institute and Tsinghua University students interning at the University of Pittsburgh's School of Medicine to Pittsburgh Mayor William Peduto looking forward to visiting China in September and traveling to Pittsburgh's sister city Wuhan, capital city of Central China's Hubei province.
Such events are great educational opportunities for people who are obsessed with the differences and advocate confrontation between the two countries. I especially liked what Biden said - that China and the US don't see eye to eye on some key issues, but that doesn't mean they should not stop working together.
Increasingly, leaders of the two countries have realized that if they don't work together on key issues, especially important global issues, then it is less likely for them to be resolved and for other countries to come on board. It also means they could waste vital opportunities for cooperation that could benefit the people of the two countries and those beyond.
It was nice to hear Biden say on Tuesday that China should be at the table to help shape rules, particularly because the earlier rhetoric from Obama that "we, not China, should write the rules" was quite disturbing, at least from China's perspective. As home to one fifth of humanity, the second-largest economy, the largest trading nation and a permanent member of the United Nations Security Council, China should definitely be at the table to make rules.
People should not be disappointed if they don't see major breakthroughs at the S&ED, because only engagements like this are a necessary and often vital step toward breakthroughs. And that could happen when President Xi Jinping pays his first state visit to the US in September.
The author is deputy editor of China Daily USA. chenweihua@chinadailyusa.com