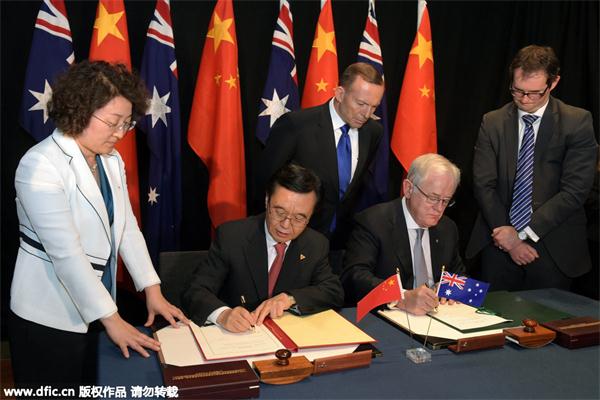 Australian Prime Minister Tony Abbott (3-R) looks on as China's Minister of Commerce Gao Hucheng (2-L) and Australia's Minister for Trade Andrew Robb (2-R) sign the Free Trade Agreement (FTA) between the two countries, in Canberra, Australia, 17 June 2015. Australia and China signed a FTA on 17 June 2015, after more than a decade of negotiations. [Photo/IC]
The landmark free trade agreement China and Australia signed on June 17 will have a far-reaching impact on bilateral ties and contribute to economic integration of the Asia-Pacific region. Seen as one of the most progressive FTAs in trade and investment liberalization China has signed, the China-Australia Free Trade Agreement will boost bilateral trade and drive the wheel of economic development in both countries.
To begin with, it will enable the two countries to complement each other's economic advantages, deepen win-win cooperation and increase mutual benefit. Estimates from Australia show the deal is worth $18 billion and will increase GDP growth of Australia and China by 0.7 and 0.1 percentage points. This is certainly a blessing for both the economies which are experiencing a slowdown.
The ChAFTA covers a broad terrain, including trade in commodities and services, investment, e-commerce, government procurement and intellectual property rights. Under the agreement, China will grant Australia access to more than 40 areas in its service sector, including finance, healthcare, law and old age care.
The service industry accounts for 70 percent of GDP of Australia, which has a decided advantage in such areas as finance, tourism, education, specialized services and clean energy. Therefore, the service trade is expected to become a new growth point in bilateral trade.
To China's benefit, Australia will accord Chinese investors the same benchmark that it extends to those from the United States and Japan, which is good news for Chinese enterprises looking for channels to invest in Australia. Given that Australia is the second most sought after destination for overseas Chinese investments, the ChAFTA will trigger a new spree of Chinese investments in Australia.
Statistics show that last year bilateral trade reached $136.9 billion, 16 times the volume in 2000. And China is already Australia's biggest trading partner, accounting for nearly a quarter of the country's total trade value.
The ChAFTA is another comprehensive, high-level free trade agreement China has signed with countries in the Asia-Pacific after inking the FTA with the Republic of Korea on June 1 and the first with a major developed economy. As such, they epitomize China's economic pursuit in the new era.
The fact that the ChAFTA covers important fields that have emerged in the new century such as e-commerce and government procurement shows China is dedicated to opening up wider to the outside world by adapting to the international trade and investment regime.
China has signed 14 FTAs with 22 countries and regions, which include the Association of Southeast Asian Nations, New Zealand, Singapore, Pakistan, Chile, Peru, Costa Rica, Iceland, Switzerland, the ROK and Australia.
The Chinese mainland has also signed Closer Economic Partnership Arrangements with Hong Kong and Macao special administrative regions and a cross-Straits economic pact - the Economic Cooperation Framework Agreement - with Taiwan.
The FTAs not only yield real benefits to the countries and regions that have signed them but also facilitate and boost multilateral trade. That more and more Asia-Pacific economies are strengthening their trade bonds with one another signifies they are moving toward regional integration.
As a region that accounts for more than 60 percent of the world's population, Asia has a huge market potential and has been a constant magnet for foreign investments, especially after the 2008 global financial crisis. Yet since 2013, the flow of foreign funds has slowed down, creating increasing challenges for regional integration.
China, however, remains committed to signing FTAs with trade partners in the region that will yield exemplary results and thus help open new horizons for regional integration. Global economic integration, which features free flow of capital, commodities and labor, is an irreversible trend. And China is willing to open its economy further so that it and its trade partners can reap huge benefits from free trade and global economic integration.
The author is a senior writer with China Daily. wanghui@chinadaily.com.cn