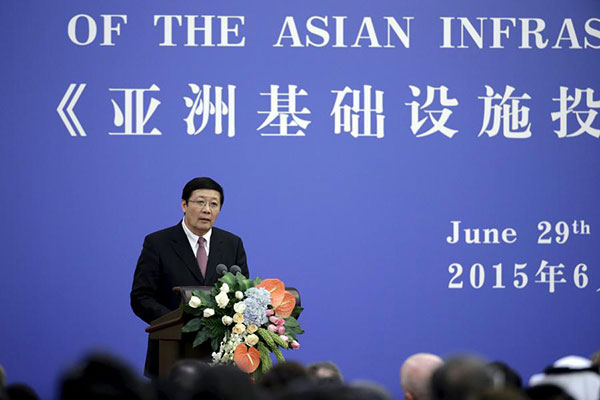 China's Finance Minister Lou Jiwei speaks at a signing ceremony of articles of agreement of the Asian Infrastructure Investment Bank (AIIB), at the Great Hall of the People in Beijing, June 29, 2015. Lou said on Monday he was confident the Asian Infrastructure Investment Bank (AIIB) could start functioning before the end of the year. [Photo/Agencies]
President Xi Jinping's meeting with representatives of the prospective founding members of the Asian Infrastructure Investment Bank on Monday in Beijing shows the importance China attaches to the new multilateral lender.
Xi said that as long as all parties involved shore up the spirit of multilateral cooperation the AIIB will be a platform featuring openness, inclusiveness, reciprocity and win-win outcomes. In fact, it is the AIIB's design as an open and inclusive multilateral lender that has won it endorsement and popularity from countries across five continents.
Monday's signing of the 60-article constitution of the China-proposed bank by representatives of the 57 prospective founding members, a significant step forward, paves the way for it to begin operations around the end of the year.
China, India and Russia are the three largest shareholders and have voting shares of 26.06 percent, 7.5 percent and 5.92 percent respectively. Asian members will contribute up to 75 percent of the bank's authorized capital of $100 billion.
According to China's Vice-Minister of Finance Shi Yaobin, China does not seek a veto power in the bank, which should dispel any concerns about China dominating the bank. Its stake and voting share in the initial stage are natural results of the current rules and may be diluted in the future.
Nor is the AIIB competing with the existing international financial institutions, it will be a complementary institution working for the common development of both its client countries and its stakeholders.
Having observed the need in Asia for infrastructure development and that the existing international lenders have been unable to meet the huge demand for funds, China is using its experience in infrastructure development and the foreign reserves it has accumulated over the years to initiate the multilateral organization so as to produce win-win outcomes for all the parties involved.
The fledgling multilateral lender will learn from the best practices of the existing multilateral financial institutions, such as the World Bank and the Asian Development Bank, and learn the necessary lessons to avoid repeating past mistakes.
It will also uphold high standards and follow international rules in its operation, policy-making and management to ensure efficiency, reduce operating costs and increase transparency.