Editor's note:
The US Supreme Court ruling to legalize gay marriage nationwide,in a 5-4 decision, has aroused a swirling online debate. It's a heated topic among Chinese and netizens share their opinions on the issue.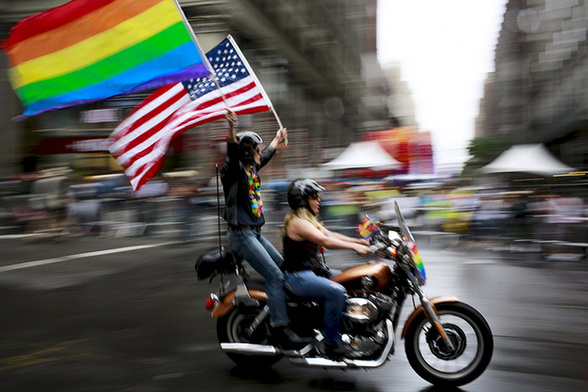 A couple carry an American flag and a rainbow flag during the annual Gay Pride parade in New York June 28, 2015. [Photo/Agencies]  
Li Yinhe, a famous sociologist with ifeng.com
I think the legalization of gay marriage is a shortcut to improve lives. If the marriage becomes legitimate, then all forms of discrimination against homosexuals will simply become untenable.But there is still a long way to go for Chinese gays and lesbians. The main obstacles are twofold, one is social discrimination. Although their situation has attracted media attention, homosexuals are still not socially accepted in China. The other is homosexuals, as a minority group, have experienced difficulty in making their voice heard. This is a big problem.
Wangchuanqiushui, Sina weibo
More than 20 countries have now legalized gay marriage and this has become an irresistible international trend. Many people, who are truly ignorant, hold deep prejudices against homosexuals. China has nearly 70 million homosexuals, they don't do anything harmful to society, nor do they hurt anyone. Why can't they be allowed basic rights, the right to marriage?
zhengw1975, Zhihu.com
Homosexuality can be allowed to exist but should never be made legitimate. I sympathize with them but will not support same sex marriage. Their behavior will affect the sexual orientation of future generations, especially young people who are sexually ignorant and can easily be affected by erroneous ideas.
zhang Bavol, Zhihu.com
The legalization of gay marriage will allow same sex couples to get legal protection. Many gays in China intend to marry or have married under social or family pressure. An estimated 16 million Chinese women are married to gay menwho suffered cold violence during their "false"married lives. Same-sex marriage will also bring hope to the thousands of teenagers around the world suffering peer bullying, so that have the courage to lead their lives.
Tupaopaodezhangyu, Zhihu.com
I respect their choice to be a homosexual, because everyone has the right to pursue their own lifestyle. But I am firmly opposed to the legalization of gay marriage as marriage is sacred while homosexual acts go against natural biological evolution and are thoroughly anti-human acts.