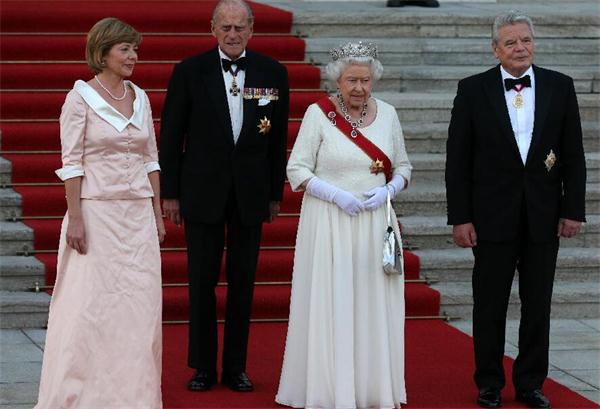 German President Joachim Gauck (1st R) greets Britain's Queen Elizabeth II (2nd R) and Prince Philip (3rd R) at the Bellevue Palace in Berlin, Germany, on June 24, 2015. Queen Elizabeth II and her husband Prince Philip are on an official visit to Germany. [Xinhua/Luo Huanhuan]
On Friday, the final day of their visit to Germany, British Queen Elizabeth II and Prince Philip visited the site of the Bergen-Belsen concentration camp, which British troops liberated 70 years ago.
The camp, where some 200,000 people were estimated to be exported and around 52,000 died, and which German President Joachim Gauck has called "a place of horror" and "an abyss" in the heart of his country, is now a place of remembrance in Germany.
Queen Elizabeth II said her presence underlined the complete reconciliation that has taken place between Britain and Germany.
Germany has had the courage to face up to this part of its history and by showing sincere remorse has reconciled with the countries that Nazi Germany invaded.
When West Germany Chancellor Willy Brandt fell on his knees on the site of the Warsaw ghetto in 1970, it was a moving acknowledgment of a great crime.
At the 2004 ceremony marking the 60th anniversary of the D-Day landings in Normandy, former German Chancellor Gerhard Schroeder reportedly wiped tears from his eyes. Schroeder, who was born in 1944 and whose father was killed fighting for a lost cause near the end of the war, was the first German leader invited to the regular gatherings of the leaders of the WWII allies on the French coast where one of the major battles of the war was fought.
There is a great deal of Japanese literature that deals honestly with the war. But Ian Buruma, author of The Wages of Guilt: Memories of War in Germany and Japan, said piety about war guilt is not a conspicuous feature of the Japanese scene.
Japan's nationalists excuse their country by claiming that the Japanese military enterprise, however bloody, did not try to exterminate a people as the Nazis attempted to do.
After the war, the insignia and flags of Nazism were banned. They were stripped from uniforms, removed from the facades of buildings, and eventually deemed a violation of Germany's criminal code, as symbols of an unconstitutional organization. In contrast, citizens are allowed to dress as the imperial army soldiers and march in the controversial Yasukuni Shrine, which enshrine 14 Class A war criminals along with 2.4 million Japan's war dead, on August 15, the day Japan surrendered to the Allies. Japan dares not face up squarely to its own citizens' sufferings.
The three-month Battle of Okinawa, which started in the spring of 1945, claimed more than 200,000 lives, including some 100,000 Okinawa residents.
Many civilians, often entire families, committed suicide rather than surrender to American soldiers, on the orders of fanatical Japanese soldiers. Military propaganda sought to convince civilians they faced rape and torture if captured by American soldiers. And the education system instilled the belief it was an honor to die for Japan's emperor.
Japan's education ministry had not approved the references to the forced suicides in the textbooks for some high schools until 2013.
Japan's aggression of other Asian nations is still controversial in the country. Its Prime Minister Shinzo Abe claims to uphold his predecessors' war statements, but he stops short of explicitly acknowledging that Japan committed acts of aggression, saying he wants to move on from the past and look to the future.
Only when Japan faces up to its past as Germany has will it be able to achieve reconciliation with those countries which suffered from its aggression and be able to look to the future with clear eyes.
The author is China Daily's Tokyo bureau chief. caihong@chinadaily.com.cn