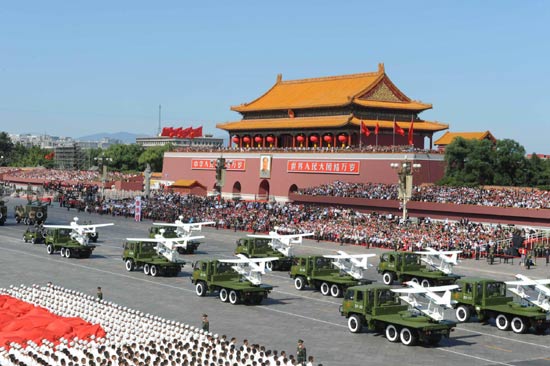 Unmanned aircraft receives inspection during a military parade in celebration of the 60th anniversary of the founding of the People's Republic of China, on Beijing's Tian'anmen Square, October 1, 2009. [Xinhua]
Whatever guesses the rest of the world might make about the motivations for China's military parade on Sept 3 to mark the 70th anniversary of the country's victory in the war against Japanese aggression, there is enough reason to argue that this parade is the right one on the right occasion, and that it will send the right message to the Chinese people and the world at large.
It will be the first military parade of its kind in the seven decades since China, which played an undervalued role in the anti-fascist war, won its defensive action in the Chinese People's War of Resistance Against Japanese Aggression, with more than 35 million casualties and economic losses of about $500 billion.
A military parade on the Chinese V-day is more than justifiable on this occasion now that China is able to celebrate the sacrifices of those Chinese and foreign nationals who fought and suffered to defend the country.
The contribution China made to the world's anti-fascist war has long been downplayed. This parade, which will include veterans of both the Communist Party-led army and Kuomintang army, is also meant to let the world know that the battles Chinese troops fought prevented a huge number of Japanese troops from being transferred to the Pacific battlefields.
This parade is also meant to let the Chinese people cherish the peace they are enjoying today by keeping in mind the sufferings of their ancestors during the war and the sacrifices that people from Russia, the United States, Canada, India, Denmark and dozens of other countries made in helping Chinese in their fight against the Japanese aggressors decades ago.
And while a strong military force can be a war machine for warmongers, it can also be a deterrent against military aggression. In this sense, this coming military parade is also meant to demonstrate to the world China's resolve to defend itself not just against a military threat but also uphold world peace. The worldwide peacekeeping missions China's military forces have participated in are evidence of the contribution it is making to maintain world peace.
The reiteration of China's peaceful rise by its leaders and its persistent advocacy of resolving disputes through dialogue and negotiation are more than enough to show its earnest pursuit of enduring peace. Only if they have an ax to grind will people consider this military parade as China flexing its military muscle.