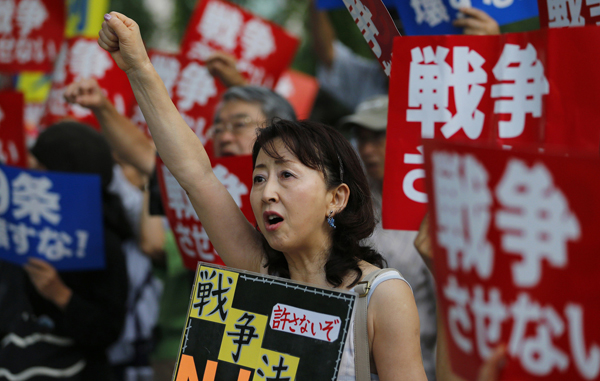 Protesters raise clinched fists towards the parliament building during a rally in Tokyo, June 11, 2015. Protesters gathered outside parliament, opposing a set of controversial bills intended to expand Japan's defense role at home and internationally. The banners read: "No war." [Photo/IC]
What a difference 20 years make.
In 1995, then-prime minister Tomiichi Murayama apologized for Japan's aggression toward other Asian countries, in what is now known as the Murayama Statement. Prior to the statement, Murayama, who led an unorthodox coalition government of the Social Democratic Party, the Liberal Democratic Party and the now-defunct New Party Sakigake, sought to see Japan's parliament, the Diet, adopt a resolution marking the 50th anniversary of the end of the World War II, on the strength of a consensus reached between the SDP and LDP.
He attempted to settle the historical perception issue once and for all with the resolution including an apology for Japan's invasion of China and its colonial rule of the Korean Peninsula.
However, some conservative LDP lawmakers strongly opposed Murayama's move. Less than half of the legislators voted on the resolution. And Shinzo Abe, Japan's present prime minister, then a Lower House member serving his first term, did not cast a vote.
Faced with this result, Murayama decided to issue a statement of his own, which was approved by all the members of his Cabinet, including those from the LDP.
The Murayama Statement acknowledged "a mistaken national policy" carried out by Japan in the past, while also expressing "deep remorse" and "a heartfelt apology" for its "colonial rule and acts of aggression".
The statement was later inherited by all his successors, including LDP leaders. The statement, which is internationally acclaimed, was eventually established as the official view of the Japanese government and is taken as a foundation of Japanese diplomacy.
At a joint press conference with former chief cabinet secretary Yohei Kono in Tokyo on June 9, Murayama said he had never expected opposition against his statement to emerge two decades later.
He said he issued his statement to "search our souls over the past and explain Japan's outlook for the future".
The future is also what Abe talks about. But the way the two have tried to move the country forward is obviously different.
Abe says his statement marking the 70th anniversary of the war's end, to be issued in the summer, will be forward-looking; he will uphold his predecessors' views on the war, but won't repeat their apologies.
Scholars and activists in and outside Japan are rightly worried about his future-oriented approach.
In a statement released on June 8, nearly 200 scholars asked Abe to "reaffirm that (Japan's) invasion and colonial control caused harm and pain to neighbor countries..." and express "renewed sentiments of regret and apology".
A similar statement signed by several hundred academics was issued last month, and 16 Japanese academic societies also released a statement urging him to apologize.
At a welcome banquet on June 5 for visiting Philippine President Benigno Aquino, Japan's Emperor Akihito said his country feels "remorse" for its actions during the war, in what one Japanese commentator said was a prod to Abe.
"In particular, in this year of the 70th anniversary of the end of World War II, I offer my deepest condolences to all those who lost their lives then," the Emperor said.
Former Japanese prime minister Yasuo Fukuda hopes that Abe's statement will convey a message that is acceptable to Japan's Asian neighbors.
Fukuda told a news conference in Tokyo on May 9 that questions concerning Japan's shared history with neighboring countries should be settled as early as possible.
But Abe, who once observed that "a foundation for the future cannot be something severed from the past, seems intent on taking his country back to the future, as he and his fellow revisionists have their eye on denying and whitewashing the past.
People wonder what this means for Japan's future.
The author is China Daily's Tokyo bureau chief. caihong@chinadaily.com.cn