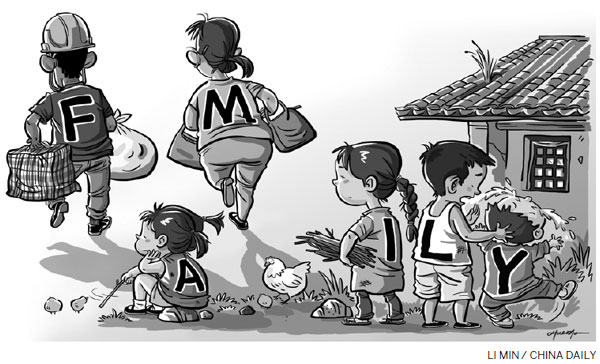 We have heard many tragic stories about China's "left-behind" children, and the tragedy that struck a poor village in Bijie, Southwest China's Guizhou province, earlier this week is particularly overwhelming.
Four siblings, all minors, were found dead in their village home on Tuesday evening. Local police suspect they committed suicide by drinking pesticide. The four, a 13-year-old boy and his three younger sisters (the youngest was just 5), stopped going to school a month ago. They lived alone because their father works in another place and their mother disappeared three years ago, village residents said.
Details will be known only after police complete their investigation. A media report cited Zhang Shigui, a villager claiming to be a relative of the children, as saying: "The only food they had was corn ... because they were too poor." But other reports said vegetables and preserved meat were found in the house.
Many will recall another tragedy which too took place in Bijie. On Nov 16, 2012, five boys, the eldest aged 13 and the youngest 7, died of carbon monoxide poisoning after lighting a fire and huddling inside a dustbin to protect themselves from the frigid weather. The five too were "left-behind children" whose parents worked as migrant workers in cities. The heart-wrenching tragedy put Bijie's "left-behind children" in the spotlight, prompting the local authorities to set up a specific fund to help such children.
Regrettably, another tragedy has struck. On one level, the tragedy reflects the poor sense of responsibility that some parents have toward their minor children. There is no doubt that poor people in less-developed rural areas are forced to migrate to cities in search of better-paying jobs. But the least they could do before leaving their homes is to arrange for some family members or other relatives to take care of their young children. With no adult at home, how could the four minors have taken care of themselves?
Poverty, and the irresistible urge to emerge out of it, should not be used as an excuse by parents to shirk their responsibility of taking care of their minor children.
The father of the four dead children, Zhang Fangqi, did not ask relatives to take care of the four minors. Therefore, he deserves sympathy and condemnation both. Had he had even a vague idea of children's safety, he would not have left his children alone.
Other reports indicate economic factor may not have been the main reason for the father to seek incomes away from his family. The four dead children, according to villagers, suffered serious domestic violence, with the boy, for example, once beaten by his father suffered a fracture in one arm. Lack of care and love at home had turned the children into loners. The death of minors resulting from parents' failure to fulfill their parental responsibilities has also highlighted the need for the authorities to take practical measures, even pass legislation, to ensure that mothers and fathers fulfill their parental duties.
On a broader level, the tragedy has revealed the astonishing lack of a sound social welfare system, especially in poor and remote rural areas. If a basic welfare system had been in place in Bijie and the local government had taken steps to help the children, as it had promised after the 2012 tragedy, four young lives could have been saved.
The tragedy has also reminded us that it is time to squarely face the "left-behind children" problem by taking tangible measures to improve the welfare system, especially for children. Statistics show the country has about 22 million "left-behind children", who, because of being separated from their parents for long periods, have developed psychological and social problems. And because they are forced into this abnormal familial and social situation, they tend to veer toward anti-social activities, even crime.
The authorities have to take steps to cure the children of such abnormalities.
In short, the latest Bijie tragedy is another stark reminder that the country cannot afford to ignore the "left-behind children" problem any more.
The author is a senior writer with China Daily.
wuyixue@chinadaily.com.cn
(China Daily 06/13/2015 page5)