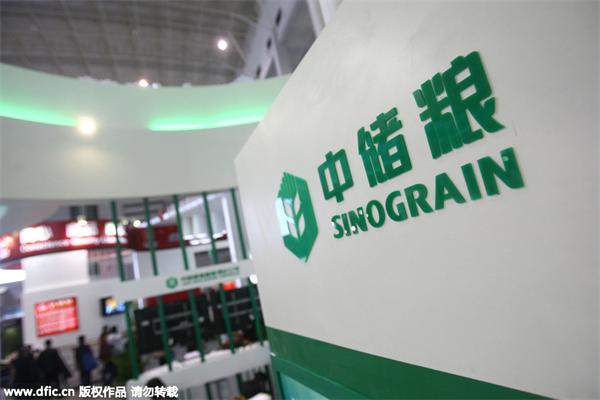 Journalists have recently found that Sinograin storage managers in Liaoning and Jilin provinces have been embezzling public funds by conspiring with illegal grain merchants to put cheaper, previously harvested grain in storage but paying the price of freshly harvested grain to merchants. [Photo/IC]
At a recent conference on deepening reform, the central leadership initiated a new comprehensive system for supervision of State-owned companies. The move is widely considered a precursor to comprehensive reform of SOEs. Comments:
In China's grand strategies such as the Belt and Road Initiative, SOEs in fields such as transportation, energy, finance and telecommunications will play a pioneering role. Through the reform, the central leadership aims to make these SOEs more competitive and better expand them globally.
Jin Bei, an academician with the Chinese Academy of Social Sciences, June 4
Previous inspection teams sent by the central disciplinary watchdog have found many problems with SOEs, especially the loss of State-owned assets; it is their reports that have prompted the leadership to take action. The new move will improve the existing supervision mechanism by urging various levels of disciplinary watchdogs to play a bigger role.
Zhang Chunxiao, a researcher at Chinese Academy of Governance, June 6
The SOE reform in the 1990s aroused wide public antagonism because the privatization process that followed involved too much corruption and a widening gap between rich executives and ordinary workers. Lack of transparency and public supervision is considered the main cause of the corruption. That lesson has been learned and the public will now be able to report any clue to corruption they find.
Zhu Andong, a vice-professor at Tsinghua University, June 5
While trying to cover all areas possible, the new supervision system lays special emphasis on key areas such as the decision-making departments of SOEs and the agencies that control key resources. History has shown that these areas easily breed corruption so more energy and resources will be invested in cleaning them up.
Li Jin, chief researcher at the Enterprise Research Institute, June 5