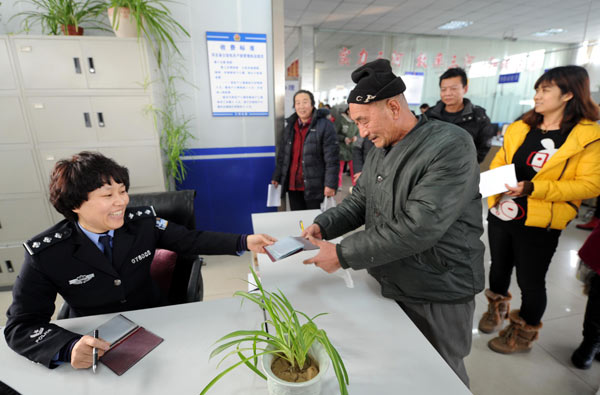 A man's hukou (household registration) is transferred at a government service center in Sanhe, Hebei province. The Ministry of Public Security and 11 other ministries and commissions have drafted reform guidelines aimed at establishing a new system to allow hukou to be transferred based on a person's place of residence and occupation. LI XIAOGUO / XINHUA
Sixteen provinces and municipalities have published their plans for reform of the hukou system for household residence registration. Most of them include cancelling the decades-long practice of dividing it into rural and non-rural categories. Comments:
By liberating surplus labor from the fields, the reform will help stabilize China's economic growth and prevent a potential sharp decline. However, while the national economy will benefit, local governments must pay the additional costs resulting from the increased demand for public services and social welfare. That is why local governments are so reluctant to propel the hukou reform.
Cai Fang, deputy chief of the Chinese Academy of Social Sciences, May 28
More important than reforming the policies is reforming the discriminative mentality that still reigns among certain officials, even ordinary people. A fresh case best describes the harm of the mentality: when two young men died trying to save a co-worker, one family got about 400,000 yuan ($64,566) as compensation while the other got about 190,000, simply because the latter had a rural hukou. It was only when the media focused on the issue that the latter got equal compensation.
Southern Metropolis Daily, May 26
The ongoing hukou reform will benefit more migrant workers, who labor in cities but have long been considered rural residents under the existing discriminatory system. It will also help encourage more farmers to migrate and work in cities, thus meeting the cities' demand for labor.
Wang Xiaolu, an economics researcher at the China Reform Foundation, May 28
Mere policy change is not enough. The city authorities need to develop proper industries according to their actual conditions, so as to provide enough jobs and make the cities attractive to workers. An inflow of people with better education and stable jobs will help promote city development without disturbing the initial order.
Yang Shuhai, deputy chief of the Chongqing Municipal Commission of Development and Reform, May 25