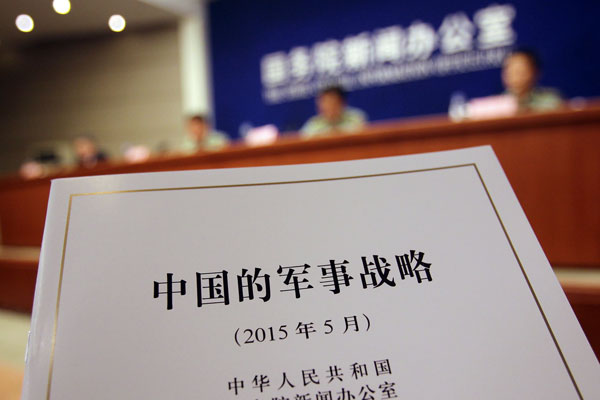 The white paper on China's military strategy is seen at a press conference of the Ministry of National Defense on Tuesday. [Photo by Zhang Wei/Asianewsphoto]
China's new defense strategy white paper is the country's latest effort to improve its military transparency, and demonstrates its sincerity in sharing its new perceptions on security, national defense and military strategy with the rest of the world.
Issued by the Information Office of the State Council on Tuesday, the white paper is the ninth in 17 years, as the country has issued a major defense document every two years since 1998.
This is clear evidence that the country is actively responding to the concerns and misunderstandings of the outside world about the modernization of its defense forces, which is necessary to avoid strategic misjudgments.
In recent years, as China has strived to strengthen its defense forces to meet the requirements of defending its people and territory, and its growing interests overseas, suspicions about how the Chinese military will project its power have also emerged.
Some in the West claim China is using its size to bully smaller countries or challenge the military supremacy of the United States, the world's sole superpower. For those who still harbor such sentiments, China's defense white papers have provided consistent clarification that China's military policy is defensive in nature.
No matter how strong the country grows, China will oppose hegemony and power politics in all forms, and will never pursue expansion. The solemn pledges given in the white paper should drive home the message that China's defense forces will reliably safeguard world peace and stability.
As one among many eye-catching highlights in the new defense white paper, China stresses the "active defense" guideline, which shows the country is adjusting its military strategy to conform to the new realities in the region and beyond.
While the external environment is by and large favorable to China's development, the country still faces a complicated security situation, as well as rising security challenges, even on its doorstep.
The US has beefed up its military presence and enhanced its military alliances with countries in the region. Japan has substantially readjusted its military and security policy and moved further away from its pacifist approach. A few neighbors have ratcheted up their provocations challenging China's maritime territorial integrity.
China's armed forces are adapting to the changes in the regional and world security environments and ensuring they are prepared to meet any challenge that might arise.
(China Daily 05/27/2015 page8)