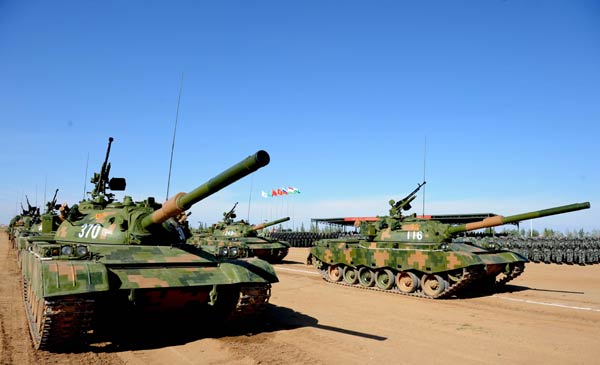 Chinese military vehicles attend the closing ceremony of the Peace Mission - 2014 military drill in Zhurihe, North China's Inner Mongolia autonomous region, Aug 29, 2014. [Photo/Xinhua]
In modern times, national security has been viewed by policymakers throughout the world as a calculus of military relationships and the relative balance of military power. That concept is becoming less helpful in understanding international behavior and risk, as the nature of national and global security threats continues to evolve, and the vulnerability of modern societies to disruption continues to increase.
The most serious long-term threats to any country's national security and prosperity are now transnational. They are shared global threats that reflect new vulnerabilities, and addressing them will require new concepts of strategy and leadership, that is accompanied by holistic and integrated learning, in order to enable enduring global security and sustainable development.
This is to suggest that China's approach to national security would be inadequate for its future needs, if it were unduly focused on nation-against-nation competition in relation to military affairs alone. This would be true even if it were peaceful in all intentions, aspiring only toward a more harmonious world.
The vision of "Chinese Dream" in which China is globally seen as a preeminent nation of first rank and President Xi Jinping's call for a "new type of major power relationship" both comport well with a world changing with breathtaking speed in its technological and political dimensions. All countries now confront threats that few could have imagined half a century ago; all are vulnerable to new technologies, new actors, new combinations of natural forces and human intent.
The realization of the "Chinese Dream" will require other countries, including the United States, to accept that a "new type of major power relationship" will inevitably lead to a convergence of ideas, because the complexities of global challenges are well beyond the ability of any one country to address. US President Barack Obama has welcomed the approach, but modalities of cooperation still need to be found.
Finding solutions to global challenges will require a global educational partnership, empowered by research and action in many dimensions and at many levels. This implies that China can play a major role in reshaping power relations to mutual benefit through its own search for "win-win" solutions. Examples of the emerging challenges that need focused attention include: the impact of carbon-based energy sources on climate change, growing worldwide food and water shortages, an unstable global economy, a rising potential for global pandemics and unregulated health crises, severe damage to the world's oceans, global job migration, and criminal and terrorist acts on land, at sea, in the air and in cyberspace.
The examples help illustrate security dilemmas posed by globalization that elude resolution through a narrowly defined "national security" response. Also, they illustrate possibilities for new channels of dialogue at multiple levels of society, both within China and with counterparts abroad.
Any new model of great power relations must first accurately map the contours of power and risk as it is emerging and evolving in the 21st century. Xi's call for other countries to help co-evolve new structures of shared authority is a strong move in the right direction. And his call for a "new type of major power relationship" will be most effective when people in every country can engage with a powerful China by participating in global educational partnerships.
China's leadership in developing a global partnership network of think tanks, educational institutions, and civil society can help establish the institutional framework to allow a new generation - the diplomats, intellectuals, engineers, doctors, thinkers and decision-makers of tomorrow from across China - to maintain open channels of interaction with their peers throughout the world in identifying and responding to shared global problems.
Today, there is no such thing as a global strategy that does not include China. What must be addressed - and what sits at the heart of global partnership - are the solutions and opportunities for research and educational collaboration that these challenges present. Greater attention in developing a cooperative agenda in the education domain will not only help address these challenges, but also assure that China will lead in the development of a "new type of major power relationship" by its own actions - because its own behavior will shape the response of every other player. At the same time, building global partnerships in education is the path through which the "Chinese Dream" could be fully realized.
The author is co-founder with Talal Abu-Ghazaleh and chairman of the Global Challenges Forum Foundation in Geneva, Switzerland. He is also a visiting scholar at Shanghai Jiaotong University's School of International and Public Affairs.