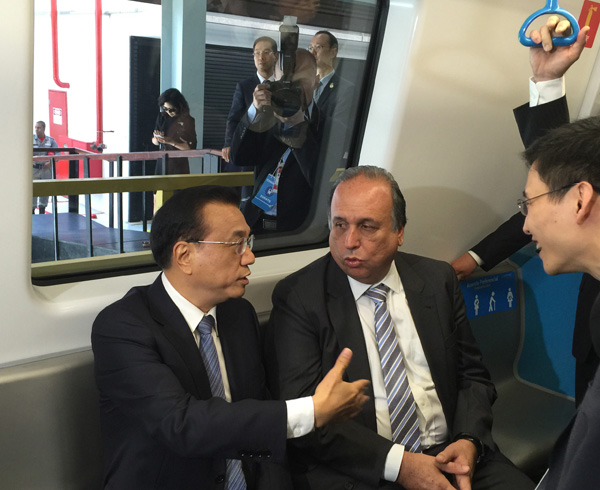 Premier Li Keqiang takes a ride on the new subway Line 4 with Rio de Janeiro Governor Luiz Fernando de Souza on Wednesday. The train was made by China's CNR Corp. [Provided to China Daily]
Premier Li Keqiang's ongoing visit to Latin America is a potent reminder of the vigor and dynamism of Sino-Latin American relations. In the wake of the first China-Community of Latin American and Caribbean States Ministerial Forum in Beijing last January and the state visits to the region's countries by President Xi Jinping in 2013 and 2014, Li's trip opens up new possibilities and opportunities for trans-Pacific links between China and the Americas.
Apart from Brazil, Li will also visit three of the four members of the Pacific Alliance: Colombia, Peru and Chile. Xi visited the fourth, Mexico, in 2013. The PA, set up in 2012 by countries on the Pacific coast of the Americas with a special interest in promoting trade with Asia, is the latest of a number of Latin American regional integration schemes to attract the attention of Chinese policymakers and companies.
Li, his high-level ministerial delegation and the 120 Chinese company executives accompanying him will be exposed to the three member states of an entity that has elicited considerable international attention. With a population of 214 million, the PA represents a little over a third of the population of Latin America and the Caribbean, and accounts for 37 percent of the regional products. If the PA member states were to merge, they would be the eighth-largest economy exporting power in the world, whose foreign trade was worth $1.1 trillion in 2013.
Beyond these numbers, what makes the PA especially attractive is its dynamism and openness. According to the World Bank, of the 32 countries in the region, the four PA member states are ranked first, third, fourth and fifth among those with which it is easiest to do business. In addition to a highly favorable business environment, the four states also have more open economies, which accounted for 50 percent of the region's foreign trade in 2013. They also attracted 45 percent of the foreign direct investment ($85 billion) in the region and 33 million tourists that year. And their per capita income as a whole is $10,249.
The great challenge of Sino-Latin American relations today is in deepening and diversifying the links, and reaching out beyond the narrow limits of trade. An important part of that entails increasing Chinese investment in the region, which, in many cases, bears no relation to this high trade volume. The same goes for an increase in trans-Pacific people-to-people exchanges, from the tourism to education sectors.
China is in transition. Its growth rate has dropped from 10 percent to about 7 percent as it pursues a more quality- and innovation-oriented economic model marked by higher domestic consumption and outbound direct investment. In that context, the complementarities of the Chinese and Latin Americas economies are obvious, and both sides have much to gain from the deepening of these ties.
The point is that the PA member states' economies offer huge possibilities to Chinese companies, private and public both. Chile and Peru have led the way in exporting minerals and agricultural products to China. Joint ventures in these areas (like the one signed by Chinese company Joyvio in Chile) are one way to go. Mexico, with a more industrialized economy, has joined international production networks in a number of sectors, including one as competitive as automobiles. Colombia, on the other hand, whose economy is flourishing, is incorporating to its productive activities vast swathes of its territory that had been off limits until now, thus offering significant opportunities for Chinese companies.
In all of these countries, investments in infrastructure, energy and transport look especially promising. Li, known for his "hands-on" managerial style, has his work cut out as he leads the way in this new phase in Sino-Latin American and Caribbean relations.
The author is the ambassador of Chile to China.