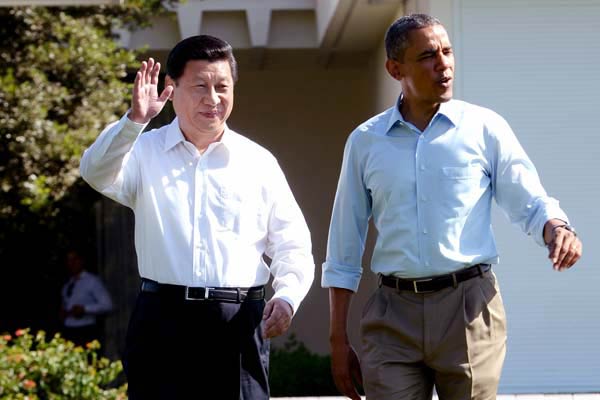 President Xi Jinping, left, and his US counterpart Barack Obama walk at the Annenberg Retreat of the Sunnylands estate in Rancho Mirage, California, on June 8, 2013.
China and the United States agreed to a "new type of major power relationship" in June 2013 when US President Barack Obama hosted President Xi Jinping at Sunnylands in California, where the two leaders also discussed important regional and global issues for more than eight hours.
In return, Xi hosted Obama in Beijing in November 2014, and the two leaders took a stroll on Yingtai Bridge over a lake near Xi's official residence during which they discussed many important issues. Later, Obama said the Yingtai talks further deepened his understanding of Chinese leaders and governance, and helped him better understand why Chinese people value national unification and stability so much.
Since Obama is eager to leave behind a rich diplomatic legacy, he should make more efforts to improve the US' relations with China. Indeed, the two sides have made progress on this front.
That China and the US agreed to negotiate the Bilateral Investment Treaty on the basis of "pre-establishment national treatment and negative list" was a major breakthrough in itself. In 2014, China-US trade reached $555.1 billion, and mutual investments exceeded $120 billion. Both were record high figures despite the sluggish global economic recovery.
Last summer, the Chinese navy took part in RIMPAC, or the Rim of the Pacific Exercise, at the invitation of the US for the first time. In November, the two countries' defense departments signed two agreements to inform each other of their major military activities and security code for military activities in international waters to reduce misjudgments and deepen mutual trust.
Moreover, the world's two biggest energy consumers issued a joint statement on climate change late last year, setting their energy-saving and emission-cutting goals. And the two opponents at previous UN climate change talks have vowed to work together to push the international community to agree to a climate treaty in Paris later this year.
But despite these achievements, Xi still has a host of issues to discuss with Obama during his visit to the US in September. The two countries' long-term joint effort to build a "new type of major power relationship" is full of opportunities as well as challenges.
China's rise offers more mutual benefits than confrontation to the US, because Beijing has drawn lessons from the strategic errors of previous big powers and believes in the principles of peaceful development and win-win cooperation. More important, China wants to chart a course that is different from one that marked the Cold War period.
The US has benefited from the world order it helped establish and dominated since the end of Cold War. But it has to abandon the zero-sum mentality, based on military and geopolitical superiority, to come to terms with China's rise. It needs to adopt a new outlook to deal with a major country that has different values and social system.
In other words, China and the US have to employ innovative thoughts and dynamic diplomacy to manage bilateral relations. To properly handle their differences and conflicts, the two sides need to respect each other's core interests and major concerns, especially because China will strongly defend its sovereignty, security and development rights, and play a bigger role in world affairs with the expansion of its national interests.
The US should keep the bigger picture in mind, because cooperation with China will benefit not only the two sides, but also the world as a whole. The common interests China and the US share offer a broad space for cooperation, leaving little room for confrontation. Therefore, the two sides should consider their relationship in the light of their overall global strategy, because the evolution of their ties is closely related to the world situation.
And keeping the global situation in mind will help China and the US both to keep their relationship on the right track.
The author is a former Chinese ambassador to the United States.