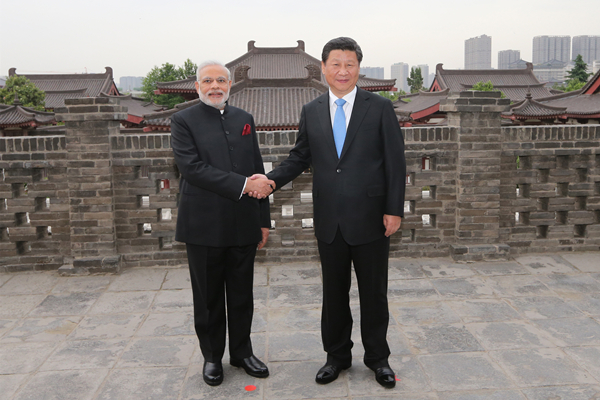 President Xi Jinping shakes hands with Indian Prime Minister Narendra Modi during their visit to Daci'en Temple in Xi'an, Shaanxi province, on Thursday. [Photo/Xinhua]
China and India are one of the largest economies of the world. During the last couple of years, both countries have shown tremendous economic growth. Change in the dynamics of the global economy has provided the opportunity to both countries to cooperate on wider scale.
China and India are the major trading partners in the region. During the last decade, bilateral trade has increased notably. In 2014, the trade between China and India exceeded over $65 billion mark. According to the Trade Map figures, in 2013, China accounted for 11.1 percent of India's imports, while 4.1 percent of India exports were destined for China. Chinese exports to India are mainly comprised of electric and electronic equipment, organic chemical, fertilizers and furniture. On the other side, China's imports from India chiefly consist of cotton, pearls, precious stones, copper ores, slag and ash.
Bilateral trade has expanded substantially in recent years. Nevertheless, the balance of trade still remains in China's favor. Following table summarizes the latest trends in trade between China and India.
China-India bilateral trade (Value in US $ Billions)

Source: China India Trade and Investment Center
Though, compared to the past, the economic cooperation between the two countries has accelerated. However, there are still enormous opportunities that have not been exploited in such fields as manufacturing, construction, electricity, gas and water industries, infrastructure (such as, roads, buildings, transportation, storage and communication), hotels and tourism, financial institutions, agriculture, healthcare, education and the various training sectors.
China and India have synergies in many areas. China has wide experience and expertise in the field of construction industry. Due to its international recognition, Chinese firms have been successful in creating infrastructure base for many countries. India could utilize Chinese expertise in the development of its high-speed railway network, metro lines and other infrastructure facilities.
Agriculture is another sector that holds significant potential for mutual benefit. China has made notable agricultural progress; especially in dry land farming. It has developed new varieties of vegetables, grains and fruits that have high degrees of tolerance in arid regions. In addition, developments in animal husbandry have seen dramatic growth in China. Overall, Chinese biotechnology is highly advanced compared to that of India. As is well known, some parts of India suffer heavy drought. Chinese experience with dry land farming is fitting and in line with India's needs. Hence, the import of Chinese technology is promising with respect to enhancing the agricultural sectors of India
The close proximity of China to markets in Asia, the Indian subcontinent and Africa, provides limitless opportunities to investors. China offers all the required infrastructure and labor skills that a business needs. Moreover, China is endowed with capital resources, while India is vigorously looking for capital resources. India could take advantage of this opportunity and get full benefits from the Chinese capital resources and built its infrastructure base.
In the future, China will have even more advanced and innovative technology than it has now. Therefore, many arenas for future economic cooperation between the two nations are possible. Only the failure to explore and a lack of proactive and target oriented policy limits the possibilities. Hence, by establishing the appropriate relationships now, there could be an enormous future expansion of scope for India to use Chinese expertise in all sectors of its economy. And that is only possible when India improves its ease of doing business ranking, create simple business rules and regulation and relax visa policy for Chinese firms. Beside, both countries should settle borders issues amicably. Additionally, India should have to recognize and respect "One China" policy.
The writer is faculty member of International School at Jinan University, Guangzhou, China.