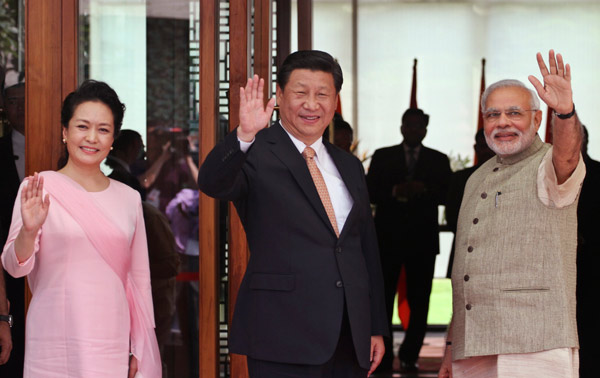 President Xi Jinping and his wife, Peng Liyuan, wave after they were received by Indian Prime Minister Narendra Modi upon arrival at a hotel in Ahmedabad, India, on Sept 17, 2014. [Photo/Agencies]
BEIJING - China and India should do more to strengthen mutual cooperation, so as to enable and facilitate settlement of the boundary issue, Foreign Minister Wang Yi said Sunday.
Wang made the remarks at a press conference on the sidelines of the annual session of the National People's Congress, China's top legislature.
The boundary dispute between China and India is a legacy of history, he said, adding that after many years of efforts, progress was made through negotiation and the dispute has been contained.
At the moment, the boundary negotiation is in the process of building up small and positive developments, Wang said. "The going is tough, and that is only because we are on the way up."
Wang quoted the remarks of late Chinese leader Deng Xiaoping as saying that "unless China and India are developed, there will be no Asian century."
He called on the Chinese dragon and the Indian elephant to join in a duet, to work for the early revitalization of two oriental civilizations, the common prosperity of two emerging markets, and the amicable co-existence of two large neighbors.
Chinese President Xi Jinping made a historic visit to India last September. The picture of the two countries' leaders working on a spinning wheel in the home state of Indian Prime Minister Narendra Modi spread far and wide in China.
Modi is to visit China this year. Wang said that he is surely to be warmly welcomed by Chinese government and people.
Indian PM expected to visit President Xi's hometown