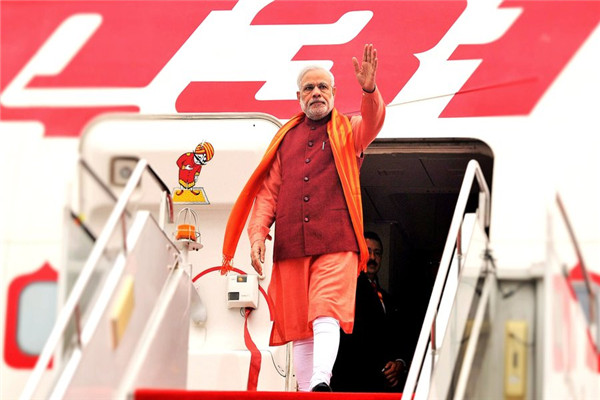 In this photograph taken and released by The Indian Press Information Bureau (PIB) on May 14, 2015, India's Prime Minister Narendra Modi waves on his arrival at Xi'an Xiangyang International Airport in Xi'an, Shaanxi province. [Photo/CFP]
Indian Prime Minister Narendra Modi's three-day visit to China from Thursday will have an impact on not only China-India ties, but also regional geopolitics.
Modi began his China visit from Xi'an, capital of Northwest China's Shaanxi province, which is President Xi Jinping's home province. The non-traditional "hometown diplomacy" for Modi's visit - similar to that adopted for Xi's visit to India in September last year - shows that both governments are determined to increase cultural exchanges and strengthen the friendship between the two leaders.
Instead of India's capital of New Delhi, Xi made his first stop in Modi's home-state of Gujarat in honor of the Indian prime minister. Modi has chosen to pay back the compliment by choosing to land in Xi'an.
Going back in history, Xuanzang, the 7th century Chinese monk and traveler, started his journey to India from Xi'an, then capital of China's Tang Dynasty (618-907). He stayed in India for 16 years to seek Buddhist scriptures. Xuanzang is said to have even visited the region in Gujarat where Modi is from, giving a glimpse of the strong historical and cultural ties between China and India.
The rapidly growing bilateral trade ties over the past decade have brought the two rising regional powers closer. In just 10 years, the China-India trade volume has increased from about $7 billion to more than $70 billion (in 2014), and it is likely to reach $100 billion in the next few years. Since 2008, China has been India's largest trade partner. Also, India is the sixth-largest destination for Chinese exports.
More important, by cooperating in the establishment of the BRICS New Development Bank and the Asian Infrastructure Investment Bank, China and India are playing a bigger role in optimizing the benefit from the global financial order.
Despite all this, China and India have to make more concrete efforts to keep bilateral economic ties healthy and sustainable, because issues such as the trade imbalance, lack of direct investments and latent security threats are yet to be resolved.
According to a joint statement issued during Xi's three-day visit to India in September, China is expected to increase its investment in Indian industrial and infrastructure projects to $20 billion in the next five years. To facilitate that, Modi is leading a delegation that includes chief ministers of three Indian provinces to China. This reflects his concern for local development in India.
Border issues, however, remain a diplomatic obstacle that sometimes prevents bilateral relations from improving. For instance, isolated "stand-offs" along the western part of the China-India border took place even before Xi visited India last September and Premier Li Keqiang paid a visit in 2013.
Yet Beijing and New Delhi have not fired a single shot across the border in any of the so-called clashes thanks to their adherence to the peace agreements, from the 1993 Agreement on the Maintenance of Peace and Tranquility along the Line of Actual Control in the India-China Border Area to the Border Defense Cooperation Agreement in 2013. If China and India remain committed to the policy of peace and diplomacy, they will inject new vitality into bilateral relations and the Asian growth story in the years ahead.
The author is an associate professor of international studies at Peking University.