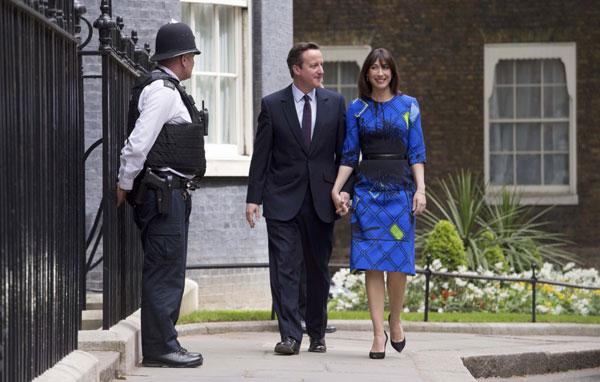 Britain's Prime Minister David Cameron and his wife Samantha return to Number 10 Downing Street after meeting with Queen Elizabeth at Buckingham Palace in London, Britain May 8, 2015.[Photo/Agencies]
Having won an unexpected victory in the May 7 general election, British Prime Minister David Cameron now faces a number of major foreign policy challenges including relations with China.
During his first term, Cameron's relations with China got off to a rocky start after he angered Beijing by meeting the Dalai Lama. This led to a year-long freeze in high-level contacts with China and a change in the United Kingdom's approach. Cameron refocused British foreign policy more toward commercial diplomacy with UK overseas missions told to make promoting British exports their top priority, which led to a 40 percent increase in British exports to China over the past five years.
Another priority was to attract Chinese investment, which too has been very successful with China investing in major infrastructure projects, including Heathrow Airport, Thames Water and a new civilian nuclear plant.
The UK also broke ranks with the United States in joining the Asian Infrastructure Investment Bank as a founding member. British Finance Minister George Osborne justified the move in terms of the UK's financial expertise and desire to see AIIB have the highest standards in transparency and lending criteria. A hidden motive was very likely the desire to ensure that London remained a leading center for the internationalization of the yuan.
As a European Union member, the UK has to take into account the EU's policy toward China. Here the priorities are a new bilateral investment treaty, something the UK strongly supports, and concrete steps to fulfil the EU-China 2020 strategic agenda.
China will be watching the UK's overall relations with the EU as Cameron has promised a referendum on British membership by 2017. This move was partly to combat the threat from UK Independence Party which favours British withdrawal and the right-wing of the Conservative Party which too demands that Britain leave the EU.
Cameron's strategy is to renegotiate some aspects of the UK's membership of the EU, including the free movement of labor, the working time directive and the controversial aim of "an ever closer union" with a view to recommending a yes vote in 2017.
This is a very dangerous strategy, because the new government will inevitably have to make some substantial cuts in public finances in the next two years, which will be unpopular and could well decide how people vote in any referendum. The evidence from other referendums in Europe is that voters use the occasion to deliver a verdict on the government rather than the issue in question.
The US has made it clear that it wants the UK to remain within the EU and continue to play a strong and effective global role. But Cameron may privately agree his priority is to manage domestic opinion and keep his party united.
Cameron will have another major domestic issue to manage, namely the dramatic landslide for the Scottish National Party. To prevent demands for another referendum on Scottish independence, Cameron will have to offer Scots further devolved powers. This will also require much consultation and efforts leaving less time for foreign policy.
In short, during his second term, Cameron is likely to continue with his commerce-first approach to foreign policy which will be driven by how to satisfy domestic opinion, especially within his own party.
The author is director of the EU-Asia Centre in Brussels.