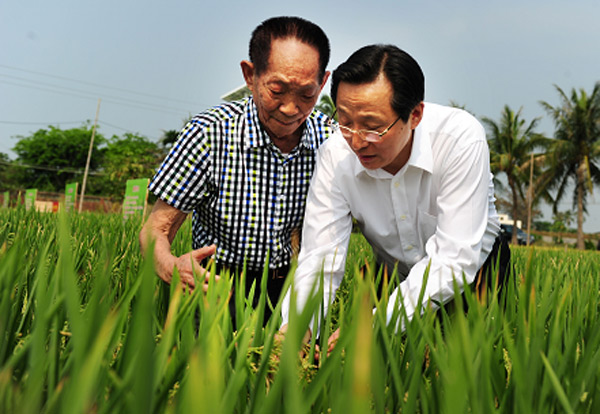 Yuan Longping, left, the father of hybrid rice in China, checks a rice field in this 2013 file photo. [Photo/asianewsphoto]
The massive loss farmers have suffered after cultivating strains of rice developed by China's "father of hybrid rice" Yuan Longping reflects two major problems in rice production.
First, small farmers in China don't have crop insurance, essential to protect them from untoward loss. The massive drop in yield (from as much as 500 kilograms per mu - 15 mu is equal to 1 hectare - to as low as 50 kg per mu) was caused by rice blast. And since small farmers didn't have crop insurance, they had to approach the media and authorities for help.
The average loss farmers suffered is likely to be not more than 11,000 yuan ($1,615), which may not be a big amount for urban residents but is enough to deal a massive blow to a small farmer. Worse, the massive crop failure took place in Anhui province, where farmers' income is far less than in neighboring Zhejiang and Jiangsu provinces.
The situation of small farmers is not unique to China. Small farmers across the world are found wanting when it comes to preventing risks. And indeed, they need help to overcome their losses.
But unfortunately, ordinary commercial insurance companies are not willing to provide them with insurance cover, because agriculture is highly influenced by natural events, which rice blast is one. Besides, small farmers lack the money needed to purchase insurance. This means without a subsidized insurance policy, their lot cannot be improved.
Second, high-yield hybrid rice is not what Chinese people in general demand today. This Spring Festival, Chinese consumers made a beeline for Japanese rice. Which means Chinese people are looking for quality in the products they consume.
Given the pressure of a growing population, China for long has been adhering to the strategy of high production in farming. But with the country inching toward a well-off stage, an increasing number of people are demanding healthy and quality food, which varieties of super-hybrid rice cannot meet. In agriculture, the pursuit of maximum yield will compromise a crop's quality and disease-resistance powers.
Visiting a chicken farm in Japan last year, I was surprised to see rice being used as feed. Japanese farmers said that over-production of rice in Japan in recent years prompted them to use rice varieties whose yield is more than 300 kg per mu as feed. Quality is the reason Chinese people are willing to buy Japanese rice despite the high price. Unlike Japanese rice, few varieties of Chinese rice can satisfy Chinese people's high-end demand for quality.
This is a sad state of affairs. And the situation is not likely to change anytime soon because all the stakeholders are pursuing maximum production and profits in the shortest possible time. Take the superior rice variety, wuchang, as an example. According to estimates of the Heilongjiang Wuchang Rice Association president, less than 1 percent of the wuchang rice sold in the market is genuine. So 99 percent of the people buying wuchang rice cannot get the real stuff no matter how much they pay. The "bad-money-drives-out-good" effect will force good quality rice to disappear from the market, or so it seems.
From producers' point of view, farmers who have about 10 mu of land can hardly sell their rice directly to urban consumers. They have to sell it to either State-owned granaries or private grain dealers, and both buy rice on the basis of quantity, not quality. This influences farmers to go in for high-yield varieties. In the process, the interests of neither consumers nor producers are fulfilled.
Let us hope, therefore, that solving the two problems becomes an integral part of our future agricultural policy.
The author is a professor at the School of Agricultural Economics and Rural Development, Renmin University of China.