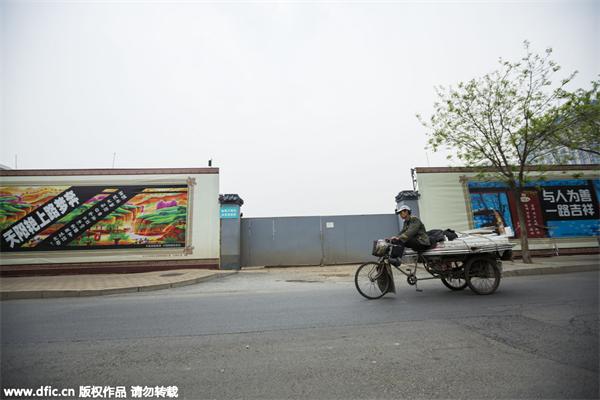 A man rides an electric tricycle past the construction site of the Fengsheng International Finance Center which is said to be the headquarters of the AIIB (Asian Infrastructure Investment Bank) in Beijing, China, 18 April 2015. [Photo/IC]
China's 7 percent economic growth in the first quarter is within market expectations.
Some people argue that the authorities must take into full consideration the negative influence of the ongoing anti-corruption campaign on the economy, given that infrastructure investment, which has long played a central role in driving national economic growth, has been greatly affected by the corruption crackdown.
It is true that China's economy has been investment and exports driven, and that government-led infrastructure investment has played a vital role in this process. However, in a bid to make innovation the driver of China's economy, the new leadership introduced the "new normal" concept of slower, but higher quality, growth. This is because the central leadership is acutely aware that the traditional growth mode has not only caused the exhaustion of national resources, it has also exerted a huge burden on the environment and is thus unsustainable.
Given that deceleration is inevitable as an economy grows, China's economic deceleration is natural. According to the Wall Street Journal, the gross domestic product growth of the United States was 2.4 percent in 2014. While Japan's GDP growth for this year is forecast by the International Monetary Fund to be around 1 percent. As the world's second-largest economy, China's GDP reached $10 trillion last year and thus the 7 percent first-quarter growth, although the lowest for years, is still impressive.
China's economic slowdown is more a result of its voluntary efforts to achieve sustainable growth and structural adjustment. Exports and investment bolstered China's rapid economic growth for decades, but such a model, in which the government plays a key role, has also exposed serious and worrisome problems.
About 99 percent of the corruption cases exposed in recent years have been related to infrastructure construction and investment, and 70 percent of them involve trading-power-for-money deals in the approval of land leasing and house demolitions. It is now an indisputable fact that under the government-led investment model, areas with greater governance presence have been inundated with corruption.
Government-led investment without effective oversight easily leads to corruption, but there is no intrinsic link between the two, and if power is placed within a cage and all jobs are done according to the law there will be no room for corruption.
However, we must admit that under the current administrative system, it is still difficult to completely stop malpractices and corruption, whether in the approval of projects or in the use of fiscal funds. To dig out corruption at the root, the country must transform its traditional economic growth model on one hand and intensify its efforts to promote clean governance in the area of infrastructure investment and construction on the other.
The National People's Congress, the country's top legislature, should enact an anti-corruption law as soon as possible, formulating special rules and clauses targeted at unique corruption phenomena. An effective supervision mechanism should be put in place and the defects in the country's laws involving tenders, bidding and government procurement should be remedied to eradicate the opportunities for corruption.
A system aimed at separating the approval of major projects from their implementation should be adopted. The approval of major local infrastructure construction projects should be transferred to local people's congresses so that the local legislative body can really play its monitoring role and all projects are conducted under openness and transparency and in line with national laws, rules and stipulations. What local governments can do is to implement the projects approved by local people's congresses instead of approving the projects themselves, a practice that will better prevent corruption in the process of local planning, development and construction.
At the same time, the current anti-corruption campaign should be extended to commercial fields, so that not only government officials, but also those from commercial and economic circles, if implicated in corruption, can be investigated and brought to justice.
The author is dean of the Anti-Corruption Research School of Zhongnan University of Economics and Law.