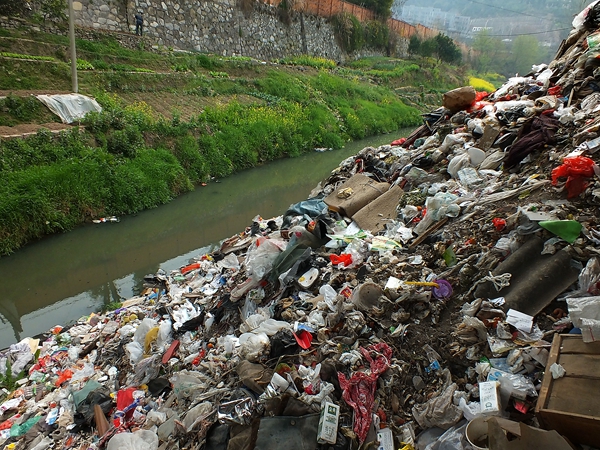 A river in Yichang, Central China's Hubei province, is severely polluted with garbage. [Photo/asianewsphoto]
The strongest ever action plan on water pollution control and conservation that the State Council released on Wednesday will hopefully kill two, or even three, birds with one stone if it can be carried out to the letter.
To fulfill the goal of basically improving the water quality of major waterways by 2020 and realizing overall upgrading of water quality control and conservation by 2030, the plan has detailed specifications about what local governments and specific industries have to do. It has also specified strict rules to assess a specific department or sector's performance.
It is more than urgent and necessary to treat polluted rivers and lakes, and rehabilitate polluted water sources since they are aggravating the country's already severe shortage of water. Effective water pollution control and conservation are of vital importance to the sustainability of China's economic development.
Constructing more sewage treatment plants, upgrading pollution control equipment and rehabilitating polluted water bodies will inevitably require a lot of investment, but at the same time they will directly and indirectly promote economic growth and thus create a lot of jobs.
Calls for the upgrading of equipment for factories to treat polluted water before discharging it have often fallen on deaf ears in the past as both local government and factory leaders were reluctant to spend the money. They have refused to see beyond their immediate interests simply because of their concerns about their economic figures. As a result, even some sewage treatment plants are not in use most of the time in a bid to save production costs.
Now this new action plan promises that both local government leaders and factory authorities will be assessed in terms of how effectively they conserve water and control water pollution.
Therefore, the effective implementation of this plan will contribute considerably to the transformation of the economic growth mode, which will propel both local leaders and the leaders of enterprises to shift their attention from just GDP figures to the importance of conserving and protecting water.
However, encouraging and inspiring as the action plan is, there is reason enough not to be too optimistic about the prospects for its implementation. Many difficulties will have to be overcome for all departments and leaders to place enough emphasis on it, and it will not be easy to change the mindsets of some local leaders from the quantity of economic growth to its quality.
But it is a must. It is vital to the future of this country and its people.