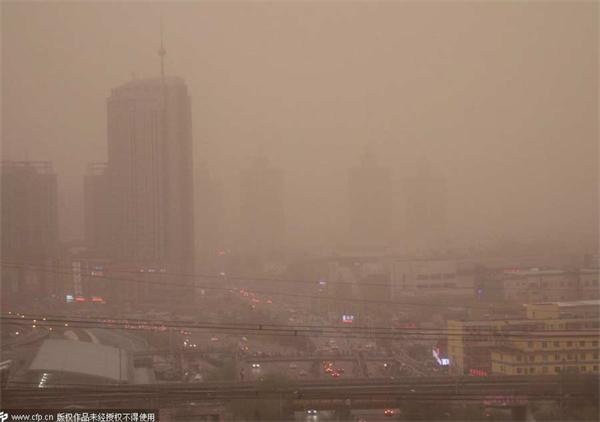 Beijing is enveloped in dust, April 15, 2015. A sandstorm hit the capital around 6pm, engulfing roads and buildings. [Photo/CFP]
Beijing suffered its heaviest sandstorm in years on Wednesday, with PM10 levels at 1,000 micrograms per cubic meter, which is extremely hazardous for health. Comments:
Planting trees can help reduce sandstorms. But it takes time and money to turn a desert into a grassland or a forest, which seems almost a mission impossible now, although it is easy to turn forests and prairies into deserts.
A netizen from Gaotai county, Gansu province, commented on sina.com, April 16
It is unimaginable that housing prices in Beijing have hit more than $10,000 a square meter. Why don't people move to cleaner parts of China?
A netizen from Suzhou, Jiangsu province, commented on 163.com, April 16
It is pity for China Central Television Station, because it had recently spent about half a million yuan cleaning the outside of its new headquarters on the East Third Ring Road.
A netizen from Beijing comments on his blog, April 16
The fortune-tellers could make a lot of money if they could foretell when a sandstorm is coming, as they could tell the construction companies in the capital: "Only buy cement, free sand is on its way!"
A netizen from Longyan, Fujian province, comments on his blog, April 16