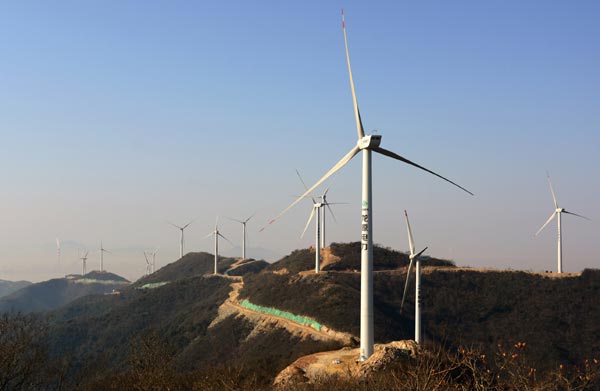 A wind farm in Zhoushan, Zhejiang province. China's investment in clean energy in 2014 hit a record $89.5 billion, accounting for 29 percent of the world's total. [Photo/China Daily]
On April 12, hundreds of people in Heyuan, Guangdong province, protested against the expansion of a coal-fired power plant, reflecting growing public awareness of environmental protection. Therefore, the local government has to address public concern, especially because the Chinese economy has embraced the "new normal", which features mid-to high-speed growth with higher efficiency to achieve sustainable development.
Heyuan's residents had been complaining against the smog covering the area since the power plant began operations in 2008. But officials, ignoring their complaints, recently approved the second phase of the project.
The central government's "new normal" economic growth plan offers more opportunities for local governments to restructure their local economies. More modest but higher quality growth is the "new normal" that the central government has espoused, which should afford local governments the opportunity to prioritize the restructuring of the energy industry and implement policies at the local level that lead toward cleaner sources.
The central government has used its strong financial position to direct tens of billions of dollars into clean energy and, together with initiatives launched at the beginning of this year, requires local governments to continue this clean energy drive to establish environmentally friendly local culture.
Delegating the responsibility to reform the energy industry and consumption pattern to local regions is the only way to cement permanent reform. Public engagement on a regular basis between local governments and local people is the key to driving forward the change toward a cleaner, greener China.
It has been widely reported in the international media that China's coal imports in the first two months of this year declined significantly. Specifically, China's coal imports stood at 32.04 million tons in January and February, down 45.3 percent year-on-year. Such a sizeable drop in coal imports should not be a surprise given the central government's all-out war against pollution.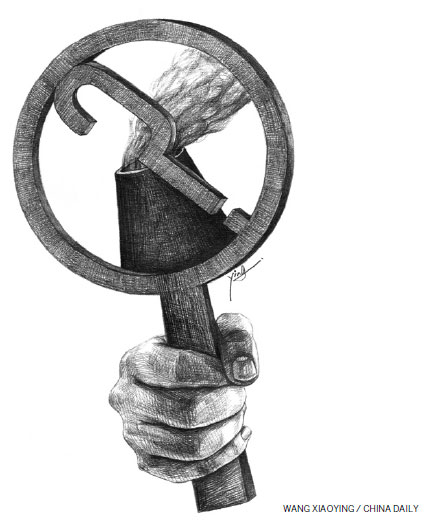 This is not empty government rhetoric. A complete rethink of government policies and the abandoning of the decades-old fossil-fuel driven economic growth model is underway. But this will take time and over-dependence on coal is not something that can be eliminated overnight.
Notably, though, the central government imposed far tighter environmental controls at the start of this year. According to the new set of policies, the use of non-fossil fuels, such as renewable and nuclear energy, will be increased to 15 percent of the total energy consumption by 2020. To achieve this, the central government has decided to cut the use of coal by about 160 million tons by 2020, which is equal to 40 percent of the current imports.
Data also show that in 2014, both production and demand in China fell for the first time since 2000, and imports declined for the first time since 2009. Overall, coal imports last year totalled 291.6 million tons, a fall of 10.9 percent year-on-year.
It is now for local governments to seize the opportunities created by the central government to reform the energy industry, for environmental protection has to be a vital part of their short-and long-term plans.
Local government initiatives that could be implemented with immediate effect to expedite the reform of the energy industry include public hearings where environmental protection issues and cases can be raised and discussed in detail. And efforts by local governments to continue to increase awareness in this area and the positive direction in which China's energy industry is now heading are required on a regular basis.
The author is a visiting professor at the University of International Business and Economics, Beijing, and a senior lecturer in marketing at Southampton Solent University's School of Business.