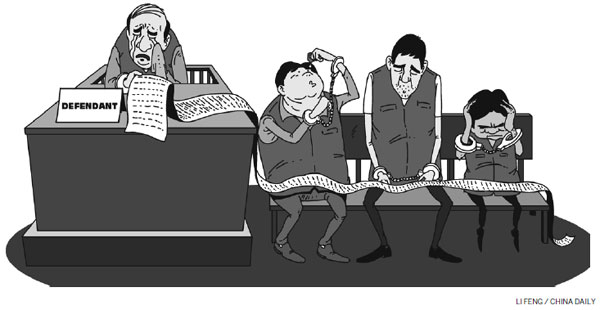 A commentary in People's Daily on Tuesday refuted the extreme view that most civil servants over 55 years old and above the deputy-county-head level are corrupt. The piece immediately prompted hundreds of thousands of comments from netizens. Comments:
Disclosing officials' asset is the simplest way to defend the good and expose the bad.
A netizen named Best 002 in Wenzhou, Zhejiang province, on 163.com, April 15
If the loopholes in the law are not closed, corruption will be like bottomless pit engulfing civil servants. Each corrupt official is a heavy loss for the country and the people.
A netzien named 5469669655 in Yantai, Shandong province, on qq.com, April 15
The success or failure of the anti-corruption campaign should be decided by the people, not the authorities, as long as the authorities still regard people as the source of their power and those they serve.
A blog named Meet You in Summer, April 15
The number of comments on the article shows its success.
A netizen named Xiao Bao in Suzhou, Jiangsu province, on sina.com, April 15
Deputy county head and over 55 years old are two interesting lines. Maybe, the media should publish another article in the future defending the civil servants below that rank and age.
A netizen named Li Yunshan wrote in a blog on April 15