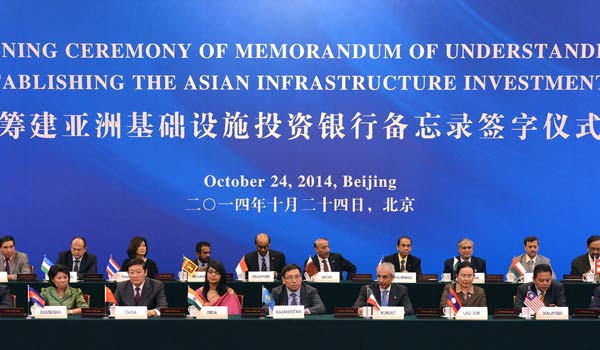 The signing ceremony of memorandum of understanding on establishing the Asian Infrastructure Investment Bank (AIIB) is held in Beijing, Oct 24 2014. [Photo/Xinhua]
From October 2013 when the concept of Asian Infrastructure Investment Bank was first advocated by China to October 2014 when a memorandum was signed and then to this year's April 15 deadline for membership applications, the bank has received increasing endorsements and faced declining resistance.
The main reason for the AIIB's popularity is that more and more countries have come to realize that it is compatible with their development requirements. On the one hand, established international financial institutions are failing to meet expanding world demand for infrastructure construction, given that many of them are reluctant to offer financing for such projects. The flight of international capital from Asia that can be expected after the United States ends its quantitative easing will further accentuate funding pressures on Asian infrastructure construction.
On the other hand, the AIIB will be a beneficial supplement to the extant international financial institutions, given that the World Bank and Asian Development Bank are not focused on infrastructure construction. The AIIB's innovative operating model, such as its possible introduction of private funds and sectors, will also help lower costs and raise efficiency.
Aside from economic factors, the extensive endorsement the AIIB has gained also lies in China's open and inclusive approach to the body as part of its broader efforts to fulfill the "open regionalism" principle. As some foreign analysts have pointed out, the AIIB, as a cooperative platform, will bring different countries different opportunities, such as opportunities for financial powers to consolidate their competitiveness, for resources-rich countries to expand their investment market and for funds-rich countries to promote stable investment.
China's open attitude toward the AIIB also demonstrates that as a big country, it is willing to shoulder greater responsibility for regional and world development but does not seek to dominate regional affairs.
The above is an abridgement of a People's Daily article published on Wednesday.