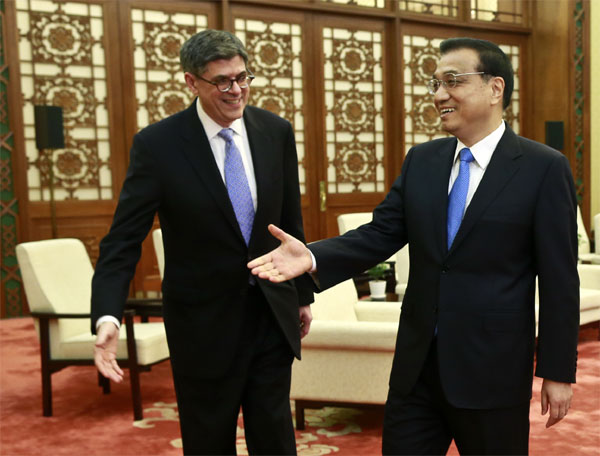 Premier Li Keqiang greets US Treasury Secretary Jacob Lew at the Great Hall of the People in Beijing on Monday. Feng Yongbin / China Daily
More than 40 countries, including 30 prospective founding members, have signed up to join the Asian Infrastructure Investment Bank, as of March 31, the deadline for countries to apply for founding member status.
The magnitude of the bank's popularity and attractiveness has been unexpected, but understandable.
Given the once strong opposition from the United States and still lingering prejudice and badmouthing from some Western media against the China-proposed initiative, it is heartening to see so many countries and organizations in the world have shown support and goodwill to the AIIB.
International lenders such as the World Bank, the International Monetary Fund and Asian Development Bank have also expressed willingness to cooperate with the AIIB.
By initiating the AIIB, China intends to break Asia's infrastructure bottleneck by tapping into the country's huge amount of foreign reserves. Those who are throwing their weight behind the AIIB will have a better chance to benefit from the upcoming investment boom as well as the continent's economic and social development.
As a country that is willing to shoulder greater international responsibilities, China is seeking to pool resources to drive the wheel of Asia's development, and it intends to do so through multilateral cooperation with international partners.
At any rate, China's endeavor deserves a thumbs up rather than finger pointing.
Hence, it is encouraging to see that Washington has shown a willingness to give the AIIB second thoughts, as Jacob Lew, visiting US treasury secretary, told China on Monday that the US is looking forward to cooperating with the bank through mechanisms accepted by the two countries.
Washington's new attitude, though far from enough, is a good beginning. As the world's sole superpower, it too shoulders its own responsibility to usher in a better global lending system as well as a better world through cooperation with others.
Washington's blocking of the AIIB has proven of little avail so far. The sensible next step would be to continue bridging the gap with China and find itself an appropriate role in the new initiative.
Like it or not, the AIIB has become a touchstone of countries' willingness to cooperate and transcend the iron curtain of ideology.
China has made it clear countries would be welcome to join even after the deadline expires, and we believe the AIIB will continue to appeal to those who are still standing outside.