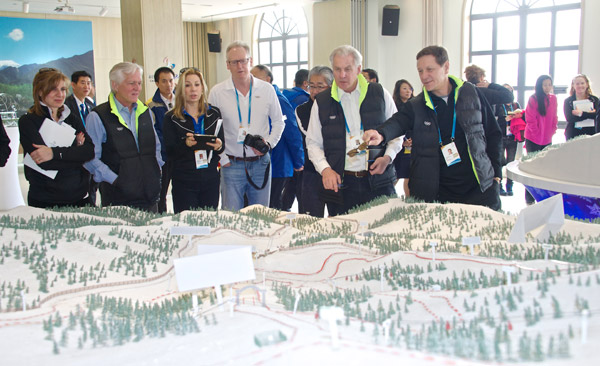 The International Olympic Committee's Evaluation Comission, chaired by Russian IOC member Alexander Zhukov (right), inspect the layout of proposed Alpine skiing venues at Northwest Beijing's Yanqing county on Wednesday.
The delegation from the International Olympic Committee has finished its evaluation of the joint bid to host 2022 Winter Olympics by Beijing and Zhangjiakou in Hebei province. In the news conference that followed, Wang Anshun, mayor of Beijing, said that authorities of both cities will make greater efforts to curb air pollution, so that blue skies will be the norm. Comments:
The promise of cleaner air will doubtlessly help Beijing win the bid for 2022 Winter Olympics, but, more importantly, that is in accordance with its promise to residents about a better environment to live in. Experts have predicted that the Chinese capital won't have clear skies until 2030, but China's leaders imply that hosting the 2022 Winter Olympics might help accelerate the schedule.
thediplomat.com (based in Japan), March 25
To clean the air is only one of the moves that Beijing and Zhangjiakou can take to make development sustainable. Actually, their whole plan for hosting the 2022 Winter Olympics features "sustainable development", for example, a high-speed railway will be built to connect the two, which will further serve as part of the nation's railway network in the future.
The authorities have also decided to use stadiums constructed for the 2008 Beijing Olympics, instead of building new ones, to save costs. With officials required to abandon their former luxurious lifestyles for simpler ones, the sporting events here will follow the new style, too.
China Youth Daily, March 26
As the mother of a 3-year-old child, I hope the Winter Olympics will bring the host city more cherished memories and stories. I grew up on Olympic stories and I know what positive changes they can bring to a city, a country and the world.
Yang Yang, member of the IOC and a Winter Olympics champion, March 27