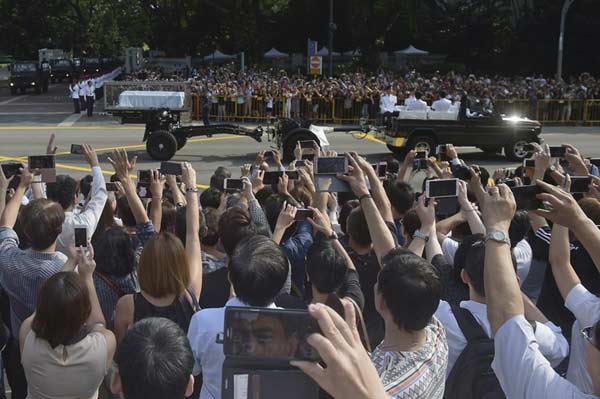 People take pictures and shout "Thank you, Mr Lee!" as the coffin of Singapore's founding father Lee Kuan Yew leaves Istana to lie in state at parliament, March 25, 2015. [Photo/IC]
Lee Kuan Yew, the "founding father" of Singapore, passed away in a year that marks the 50th anniversary of the republic of Singapore. In these 50 years, Singapore has undergone remarkable economic transformation because of the policies implemented diligently by Lee, his colleagues and successors.
Singapore's journey began in challenging circumstances. After the failed political merger with Malaysia, it lost access to the Malaysian hinterland. Not only did the city-state not have natural resources, it also lacked large heavy industries for sustaining its economy. On top of these, it had little military security for its people in a neighborhood facing political turbulence, ethnic strifes and conflicts.
Singapore had to make tough choices for survival and growth, and Lee realized early that its domestic market was too small to create a self-sustaining economy. The country had to become outward-oriented and integrate into the world economy. But in doing so, Singapore had to depart from conventional wisdom.
Singapore lacked traditional export advantages to compete in the global market. Given such constraints, conventional economic logic would not have suggested outward-oriented policies. But it converted its external sector into an "engine" of growth. It exploited its geographical advantage of being a major hub in maritime trade. As a result, it grew into one of the busiest and most efficient container ports of the world. Southeast Asia's explosive economic growth in the 1970s and 1980s saw Singapore flourish, as it became the conduit of intra-regional trade as well as the region's trade with the rest of the world.