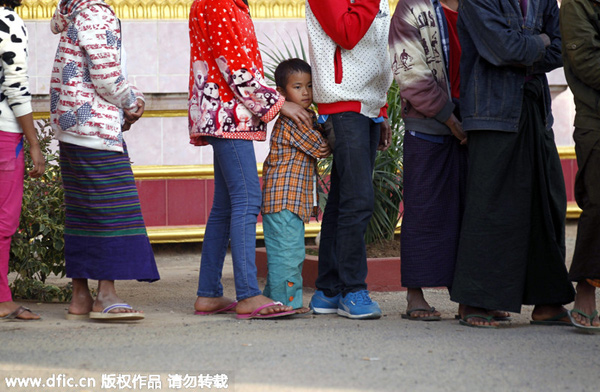 A child stands between people who fled from the conflict zone as they line up for food at a monastery which is being set as temporary refugee camp in Lashio, Myanmar, Feb 18, 2015. [Photo/IC]
Heavy fighting continues in Myanmar's Kokang region despite the ongoing peace talks between the Myanmar government and the Kokang ethnic rebels. The fighting near the China-Myanmar border has at times spilled into Chinese territory, as was seen on March 13 when a bomb killed five Chinese nationals.
Such conflicts have plagued Myanmar ever since it became independent 67 years ago and have their roots in the political and economic differences between the Myanmar central government and regional minorities.
Because of the limited success in its pursuit of unification and stability, Myanmar has gradually slid into recession and become the last option for foreign investors. Worse, the intensifying conflicts between government forces and ethnic rebels have dealt a deadly blow to the country's global image, which is vital for the success of Myanmar's national election at the end of this year and eventual democratic transformation.
The international community, for instance, has criticized Myanmar for the deaths of more than 200 people in the Kokang conflict and serious human rights issues. In fact, Western powers have made human rights protection an important criterion for engaging with Myanmar and providing it aid. The legality of the national election too faces risk, because the conflict-ridden northern part of Myanmar is unlikely to fully participate in the process.
The conflict in northern Myanmar has become a seesaw battle - neither the government forces nor the ethnic outfit, Myanmar National Democratic Alliance Army, can emerge victorious within a short time. The undeveloped mountains and forests in the north, which serve as natural barriers for local armed groups, make a large-scale mechanized military engagement impossible. On the other hand, the rebels lack the necessary financial and military power to defeat the government forces, though they know that resistance could earn them more rights and interests.