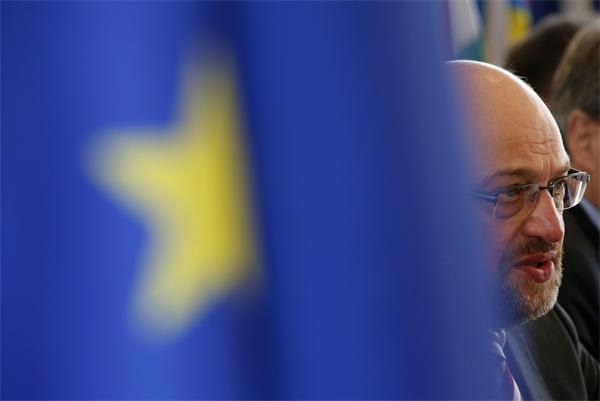 EU parliament president Martin Schulz is seen behind an European Union flag as he speaks at a news conference in Beijing, March 17, 2015. Schulz said he welcomed the four European nations joining the Asian Infrastructure Investment Bank (AIIB), but added the bank must conform to internationally accepted standards. [Photo/Agencies]
That Britain has chosen to join the Asian Infrastructure Investment Bank is a "surprise decision".
That France, Germany and Italy have reportedly sought to follow suit and also sign up to the AIIB as founding members is "a further blow" to the United States.
Such is the way an otherwise purely economic topic is being framed in the light of China-US rivalry. The AIIB itself is portrayed as a China-led challenge to the US' economic and political dominance.
Such misrepresentation is harmful, to both the existing and potential members and beneficiaries of the AIIB, to international development cooperation, and to the prospect of a more reasonable and harmonious world order.
That the AIIB was proposed by and is headquartered in China does not mean it is Chinese, or an instrument of Chinese soft power.
The Chinese initiative has received an enthusiastic response from countries near and far, because the new, international financial institution is an obvious all-win formula.
The initial memorandum on establishing the AIIB was negotiated and signed by 21 countries. The AIIB governance structure, from its charter to rules and procedures for admitting new members, is the outcome of collective decision-making.
The Asia-Pacific economies share a keen consensus on the importance of interconnectivity for regional development, and their recently agreed-on interconnectivity blueprint points to astronomical financing needs.
China has a huge surplus, needs a broader market abroad and is itching to invest overseas.
By joining the AIIB, the four European friends of the United States would both contribute to and benefit from a more prosperous Asia-Pacific. Which is why the British government said it is "in the UK's national interest". According to British Chancellor George Osborne, joining the AIIB "will create an unrivalled opportunity for the UK and Asia to invest and grow together."
US obstructionism has been less than effective this time because it has failed to see that Washington and Beijing have no reason to stand against each other on a matter such as this.
Instead of rivaling or competing with the World Bank and the Asian Development Bank, the AIIB means an additional source of investment for countries in need. That is why Chancellor George Osborne put the AIIB's role as "complementary" to other funding institutions, and why heads of both the WB and ADB welcome the entry of the AIIB.
Washington has been urging Beijing to act like a "responsible" power. The AIIB is Beijing's latest answer to that call.