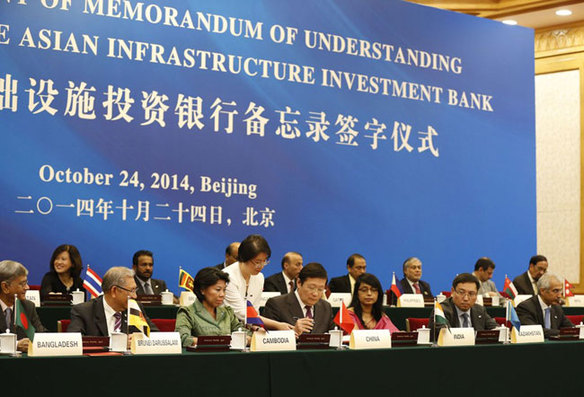 Chinese Finance Minister Lou Jiwei (C) signs with guests at the signing ceremony of the Asian Infrastructure Investment Bank at the Great Hall of the People in Beijing on Oct 24, 2014. [Photo/CFP]
BEIJING -- The membership of the Asian Infrastructure Investment Bank (AIIB) is set to expand further, with France, Germany and Italy reported to have all agreed to join the China-proposed institution.
The three European countries confirmed their respective intentions on Tuesday in the wake of Britain's application last week to be a founding member of the $50 billion bank.
Meanwhile, Australian leaders have been lining up in the past few days to voice support for joining the AIIB, which marks a conspicuous U-turn from the cabinet's previous stance.
"Our position all along has been that we are happy to be part of some thing which is a genuine multilateral institution such as the World Bank, such as the Asia Development Bank," Prime Minister Tony Abbott said during an interview with Sky News over the weekend.
In addition, South Korea, Switzerland and Luxembourg have reportedly been pondering whether to join the new international initiative.
As regards Japan, Chinese Finance Minister Lou Jiwei said earlier this month that the chance to be an AIIB founding member is available for all Asian countries including Japan by March 31, and the ball is in Japan's court.
"They told us they are considering. Whether Japan will join, we do not know. It is Japan's own decision," Lou said.
Nearly 30 countries have confirmed their participation in the AIIB, which is aimed at helping finance infrastructure projects across Asia and expected to come into being within 2015.
In response to US concerns about the standards of the AIIB, Chinese Foreign Ministry spokesman Hong Lei said last week that the AIIB's operation and governance will be open, transparent, inclusive and responsible.
"It will draw experiences from other multilateral development banks and avoid their detours so as to be more cost-effective and efficient," he told a press conference.
"The AIIB will complement existing multilateral development banks and support the infrastructure and economic development in Asia," he added.
AIIB timeline:
Oct 2, 2013 - Chinese President Xi Jinping pledged to set up an Asian investment bank to help fund infrastructure projects as he visited the Southeast Asian region.
April 10, 2014 - Chinese Premier Li Keqiang announced at Boao Forum that China was ready to "intensify consultations with relevant parties in and outside Asia on the preparations for the Asian Infrastructure Investment Bank (AIIB)."