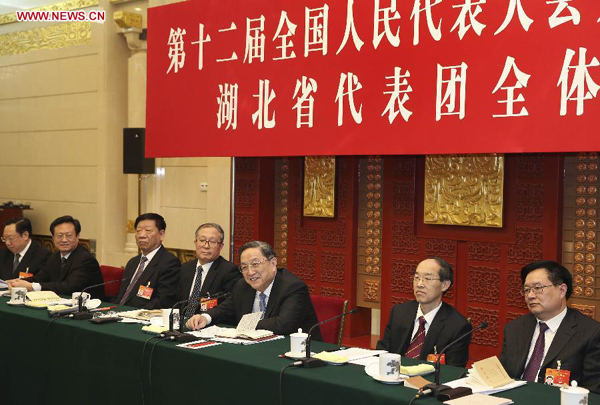 Yu Zhengsheng (3rd R), chairman of the National Committee of the Chinese People's Political Consultative Conference (CPPCC) and a member of the Standing Committee of the Political Bureau of the Communist Party of China (CPC) Central Committee, joins a panel discussion of deputies to the 12th National People's Congress (NPC) from central China's Hubei province, in Beijing, capital of China, March 5, 2015. [Photo/Xinhua]
A discussion on how historical events may have unfolded with a different set of circumstances will not rewrite history. It does, however, offer an opportunity to consider - and better understand - the present, and how to forge a better future.
The ongoing annual session of the National People's Congress, China's top legislature, provides a suitable backdrop to reflect upon the country's 61-year-old fundamental political system, says a Xinhua News Agency commentary.
Had the world's most populous nation been governed by a bipartisan system, what might have happened?
Hindsight shows us that the Western political system, which is not inherently problematic and was designed to encourage "freedom", would have been incompatible to a country where efficiency has driven economic growth and social development.
Seemingly endless political bickering, inherent in the Western model, would have resulted in political dysfunction, which in turn would have had catastrophic repercussions for a nation with a population four times as large as the United States?
Political lobbying would have diluted the unique strength and success of China's "concentrating resources to do big things".
Should China have adopted a system that facilitated lobbying among interest groups, it would have been caught in a self perpetuating cycle of endless debates.
Even in comparison with the Republicans in the United States, filibusters in a Chinese congress would have made any healthcare or poverty reduction bill extremely difficult to pass.
A system that allows plurality is fertile ground for election rigging, vote buying and the silencing of minorities. In a country as ethnically and geographically diverse as China, the fires of opposition would have been stoked and the nation divided.
That is why in his article "Why Socialism," Albert Einstein said that in a capitalist society, "Legislative bodies are selected by political parties, largely financed or otherwise influenced by private capitalists. So the representatives of the people do not ... protect the interests of the underprivileged."