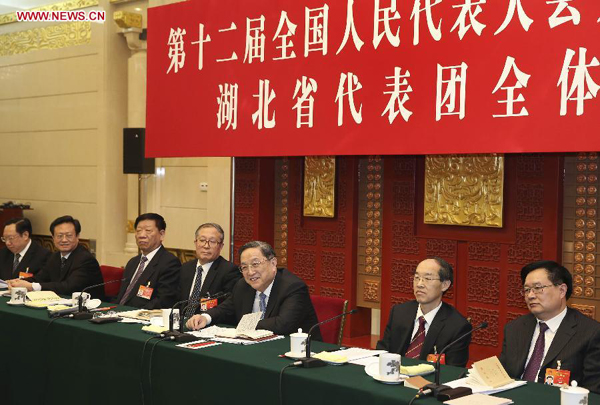 Yu Zhengsheng (3rd R), chairman of the National Committee of the Chinese People's Political Consultative Conference (CPPCC) and a member of the Standing Committee of the Political Bureau of the Communist Party of China (CPC) Central Committee, joins a panel discussion of deputies to the 12th National People's Congress (NPC) from central China's Hubei province, in Beijing, capital of China, March 5, 2015. [Photo/Xinhua]
BEIJING - China's top political advisor Yu Zhengsheng on Thursday called for prompt efforts to adapt to the country's economic "new normal" of slower growth, while stressing Party discipline against nepotism and graft.
In a panel discussion with lawmakers from central China's Hubei province on the government work report delivered by Premier Li Keqiang, Yu noted that China has entered a "new normal" phase characterized by medium-high-level growth rather than breakneck growth of previous years.
Efforts should be made to accelerate the transition of China's economic growth model, make breakthroughs in science and technology innovations, he said, adding that cultivation of talents and institutional innovation must also be strengthened.
The top political advisor, meanwhile, demanded intensified disciplinary measures in governing the Communist Party of China, by "imposing strict requirements, management and supervision on all members of the Party".
Nepotism must be strictly banned in the Party, and all regulations must be fully implemented, so that Party officials would constantly "feel a sword over their heads", he said.
The top political advisor also stressed zero tolerance against corruption, vowing to bring down both "tigers and flies" at the same time.