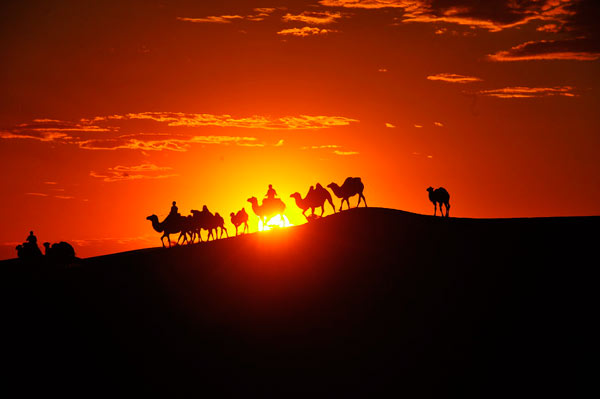 File photo of a desert in Tongliao, Inner Mongolia autonomous region. [Photo/CFP]
President Xi Jinping's Silk Road Economic Belt and 21st Century Maritime Silk Road initiatives have attracted worldwide attention with some experts and media outlets calling them China's version of the Marshall Plan. The "Belt and Road Initiatives", however, are drastically different from the Marshall Plan.
The Marshall Plan, or the European Economic Recovery Plan, was the United States' brainchild to prevent Europe from embracing communism and siding with the Soviet Union after World War II. In contrast, Xi's initiatives are aimed at promoting world peace by helping economies find new points of growth in order to improve people's lives and livelihoods.
Thus the greatest difference between the two plans is that of policy.
As an ideological plan aimed at curbing the then rising influence of the Soviet Union and consolidating the US control over its European allies, the Marshall Plan was essentially one of antagonism. The "Belt and Road Initiatives", on the other hand, are aimed at propelling the common development of China and other countries and thus concern mutual prosperity. The initiatives neither seek to widen the sphere of China's influence nor interfere in the internal affairs of its neighbors.
While the Marshall Plan covered only Western nations and excluded all countries and regions the West thought were ideologically close to the Soviet Union, the initiatives are open to all the economies along the land and sea Silk Roads irrespective of their ideological and societal leanings. Also, unlike the Marshall Plan that saw a huge investment of funds in the already developed countries with high-quality human capital, Xi's initiatives' focus is on helping emerging economies benefit from China's economic growth.