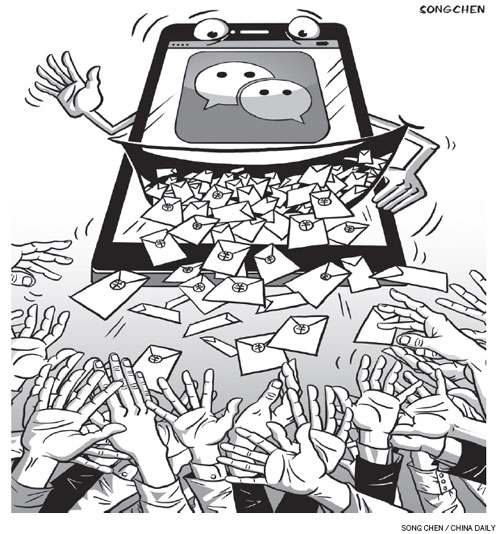 However, at the same time, the popularity of social media platforms such as Weibo and Wechat have offered people digital ways to distribute their hongbao. This can be reflected by the change of greeting words when familiar acquaintances meet. "Did you grab red packets?" and "How many red packets did you grab?" seem to have become popular questions asked between friends and colleagues when meeting after this year's Spring Festival.
The popularity of Alipay, Weibo, Wechat, as well as the Spring Festival Gala hongbao, have accelerated the shift of hongbao distribution from offline to online and plunged Chinese people into a hongbao-grabbing revelry that overshadowed anything else during the Lunar New Year. Statistics shows that during the Spring Festival Eve alone, red packets worth 500 million yuan ($80 million) were distributed to audiences through the Wechat platform, with the biggest single red packet totaling 4,999 yuan. To compete with Wechat, Alipay also gave out red packets worth a total of 100 million yuan during the prime time of the Spring Festival Eve.
The distribution of red packets by businessmen may be a kind of means for marketing and a kind of reward for consumers, but to give red packets among friends and colleagues via Wechat, even if only a nominal sum, can help lubricate inter-personal relationships and enhance feelings of friendship.
As a new form of wishing friends and colleagues a happy new year, such a change is positive and should be encouraged. Its popularity is expected to further make traditional commercialized hongbao distribution less popular.
The author is a senior writer with China Daily.