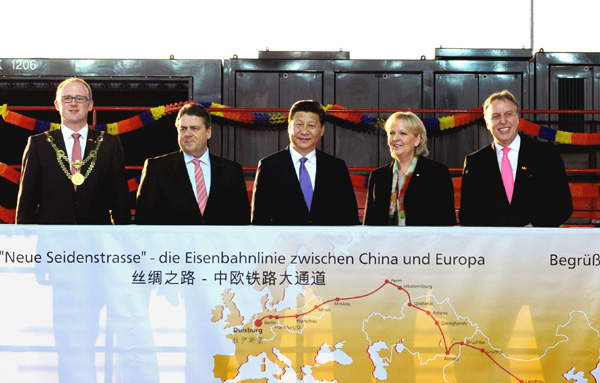 Chinese President Xi Jinping (center) visits Port of Duisburg of Germany March 29, 2014. [Photo/Xinhua]
The warm response to China's "Belt and Road Initiatives" is a direct reflection of the world's confidence in and support for China's peaceful development, says an article in People's Daily.
More than 50 countries in Europe, Asia and Africa have participated in the programs proposed by China, featuring regional integration and cooperation in industry relocation, infrastructure construction, investment, and cultural exchanges.
China welcomes the other countries to benefit from its fast development, and is actively creating conditions for that. The Silk Road Economic Belt and 21st Century Maritime Silk Road proposals not only have profound historical and cultural origins, but also meet the practical needs of the world's development today.
According to the International Monetary Fund, 27.8 percent of the world's economic growth last year came from China, which was the largest contributor. It is predicted China will remain the largest booster for world growth in the near future.
The stable and healthy growth of China is the foundation for the Silk Road initiatives, through which China is providing the capital, technology, and management experience the developing countries need. The close connectivity to be built between China and these countries will help them share the dividends of China's development.
China respects the other countries' autonomy and sovereignty, and it hopes other countries will treat it the same way.
The "Belt and Road Initiatives" are a platform to deepen mutual beneficial cooperation, peaceful coexistence and trust, all historical legacies of the ancient Silk Road.