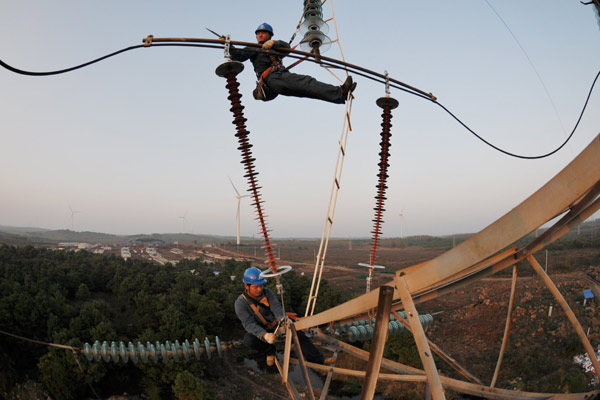 Workers check power transmission lines in Mingguang, Anhui province. [Photo provided to China Daily]
Twenty-eight provinces, municipalities and autonomous regions recently held their annual meetings of people's congresses and local committees of the Chinese People's Political Consultative Conference, and 26 of them have lowered their GDP growth targets. Comments:
What China currently needs is not double-digit miraculous growth, but the optimization of its economic structure and promotion of better economic quality. It is good that provincial leaders have shifted their focus from GDP growth to reform, which brings hope of continuous prosperity and greater enjoyment of the fruits of development to the people.
China News Agency, Jan 29
The slowdown is a good opportunity for China to adjust its economic structure. In order to further curb the past blind pursuit of GDP growth, central authorities need to change the way they evaluate provincial leaders, and make reform and structural adjustment a more important index than GDP.
Li Zuojun, a senior researcher at the Development Research Center of the State Council, Jan 29
Some analysts worry the lower GDP growth rate objectives might hinder the efforts to stabilize economic growth, but actually the two are not mutually contradictory. By setting lower GDP growth rate targets, provincial governments are able to invest more in programs that benefit people in the long run, instead of in those bringing returns mostly in the short term.
Bai Pengming, a researcher on the macroeconomy at China Investment Consulting, Jan 29