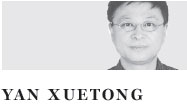 Considering China's current comprehensive capabilities, it would be better for it to emphasize its relations with its neighbors first. China has more than 20 neighboring countries, among which are important powers such as Russia, Japan and India. If most, or a majority, of its neighbors become supporters of China's rise that would greatly improve the environment for China.
Such a move would also decrease opposition from the US because its rebalancing policy in the Asia-Pacific would be impossible without the support of local states.
Currently China is investing hugely in a significant part of its peripheral diplomacy, namely the "Belt and Road Initiatives". This project best illustrates the importance of neighbors to China because both the maritime and the continental Silk Road must go through neighboring nations first. The interconnectedness of infrastructure, another key point of China's diplomacy, is also possible only with the sincere cooperation of neighboring states.
In order to ensure these projects benefit China and help improve its relations with its neighbors, China needs to maintain good political bilateral relations, strengthen security cooperation, and coordinate economic interests. If the government agencies in charge do their jobs well, the project will play a key role in pushing China's regional strategies.
While its neighbors face the choice of supporting or curbing China's rise, China has to also consider its position carefully when a neighbor has conflict with a power.
For example, when an Asian state has a conflict of interest with the US, China will face a dilemma: If it supports the US, it would have a negative influence on the relationship with its neighbor, while taking sides with its neighbor would darken Sino-US ties. In such cases, it is more than necessary to consider all the possible effects.
The "Belt and Road Initiatives" have different strategic values for China's peripheral diplomacy. The Silk Road Economic Belt stretches through Central Asia, where economic development lags behind and China's interests are relatively smaller; the 21st Century Maritime Silk Road passes through Southeast Asia and South Asia, which has both full economic potential and strategic importance as it links the Asia-Pacific and other regions.
Therefore, more strategic resources need to be invested in the latter.
The author is dean of the Institute of Modern International Relations at Tsinghua University.