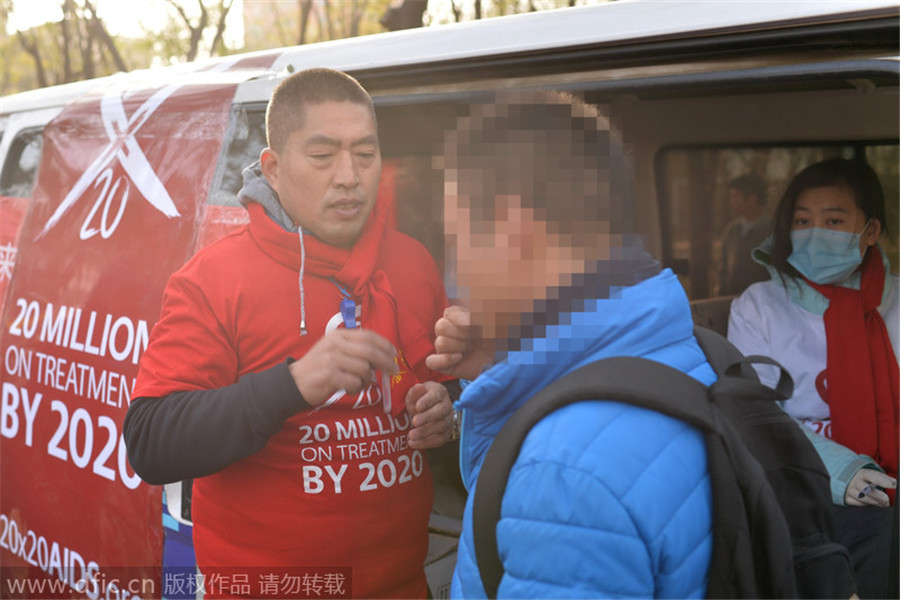 Feng Gang (alias, Middle) feels relieved after waiting for his test result for 20 minutes. It's negative. As a gay, Feng often worries about the deadly disease despite being careful. [Photo/IC]
This century opened with the AIDS epidemic at its peak. Today, new HIV infections are down significantly worldwide, while access to treatment has cut the number of AIDS-related deaths by more than a third. These achievements are no accident.
In 2000, governments gave their assent to the United Nations Millennium Development Goals which addressed the greatest challenges of our time, including halting and beginning to reverse the spread of HIV. The progress we have seen since proves that strong leadership and sustained engagement can deliver results.
Still, much more remains to be done. This year, the international community will once more need to take bold action in charting a path forward on HIV. In September, as the deadline for achieving the MDGs comes to an end, governments will decide on a new set of sustainable development goals.
To help define the future response to HIV in the new era, governments across the Asia-Pacific region together with civil society and other partners are gathering in Bangkok next week at a major regional meeting convened by the UN Economic and Social Commission for Asia and the Pacific (ESCAP), in partnership with the Joint UN Programme on HIV/AIDS (UNAIDS), the UN Development Programme (UNDP) and other organizations.
The Asia-Pacific region has been a leader in political commitment and use of resources to address the HIV epidemic. But if the region is to continue to be a pioneer, governments must urgently confront several challenges head on. Perhaps the biggest challenge is ensuring sustainable financing for HIV programs. More than $2 billion has been mobilized for the Asia-Pacific region. But international donors account for nearly 40 percent of the funding, which is not sustainable because countries cannot forever rely on international funding.
Clearly there is scope for greater domestic spending given the region's economic dynamism. China is an example of what is possible. Between 2006 and 2013, it increased seven-fold the spending on HIV programs. Now, because of its committed leadership, China has made the transition to full self-reliance, even in the face of one of the most serious AIDS epidemics in the region.
While higher domestic investments are needed, it is equally important to get more value for money. As ESCAP member states have recognized in past resolutions, the populations most affected by the HIV epidemic include sex workers, men who have sex with men, transgender people, and people who inject drugs.