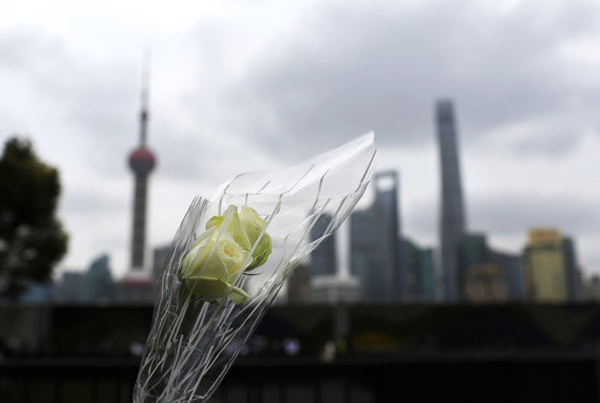 A bouquet of flowers is pictured at the site of a memorial ceremony for people who were killed in a stampede incident during a New Year's celebration on the Bund, with Shanghai's Pudong financial district in the backgound, Jan 6, 2015. [Photo/CFP]
An apology from Shanghai's vice-mayor and the dismissal of three district leaders from their posts were the metropolis authorities' conclusive response to the tragic stampede at the Bund on New Year's Eve, which killed 36 people and injured another 49.
The investigation report that was released on Wednesday, 21 days after the tragedy, concluded explicitly that such a disaster could have been avoided as the local government should have anticipated a huge crowd and made careful arrangements for their safety.
The absence of any risk evaluation in advance, the untimely release of information about the change in activities, and the lack of a timely response to the rapidly growing size of the crowd are summarized in the report as the major causes for the tragedy.
In other words, the Huangpu district government and local police did almost nothing in advance and immediately before the tragedy to prevent it from taking place.
The investigation also reveals that the major district leaders were enjoying a luxurious meal at a high-end State-run restaurant at the public's expense when the stampede occurred, which serves to highlight their lack of a proper sense of responsibility. It also demonstrates their defiance of the rule introduced by the central authorities that officials are not allowed to have luxurious meals using public funds.
There seems no necessary connection between the stampede and local district leaders' "free luxurious meal". However, their defiance of the rules that they are supposed to abide by and their complete lack of concern for the safety of a huge crowd of residents under their governance emphasize their lack of awareness about how to be people-oriented leaders.
It is necessary for the Shanghai government and relevant audit and disciplinary departments to conduct a thorough investigation into how these officials performed their duties and whether their dereliction of duties caused other problems or potential problems in the district they governed.
No municipal-level officials have been punished so far as the investigators concluded that only "those directly responsible" for the disaster should be held accountable. The conclusion may also explain why only the vice-mayor made an apology.
Yet we believe that there is more than enough reason for the mayor to give a public apology on behalf of the municipal government. The mayor can never shirk his responsibility for the incompetence of district leaders under his leadership.