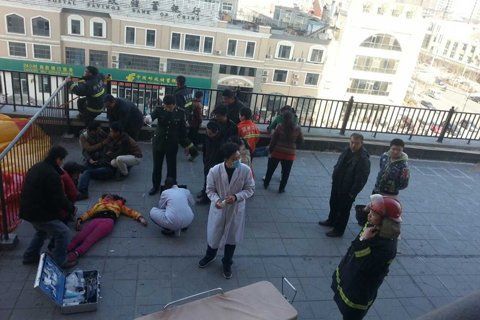 Medical staff try to save a girl who fell from a mansion when she reportedly asked for wage owed to her stepfather in Jizhou, north China's Hebei province, on January 19, 2015. [Photo/Chinanews.com]
Sad stories about migrant workers continue to occupy media headlines. On Monday, a 13-year-old girl fell from an under-construction mansion to her death in Jizhou, Hebei province, where she had gone to get her and other migrant workers' wage arrears. And a few days ago, a woman was reportedly beaten to death at a police station in Taiyuan, Shanxi province, for demanding her wages.
The authorities have taken all sorts of measures to help migrant workers get their wages on time. The measures include regulations that hold companies that deliberately avoid paying workers' wages criminally liable to face charges. But still many workers are denied their wages, with some becoming victims of fatal brawls.
Some people say employers continue to victimize migrant workers because they know the latter don't have easy access to financial and legal resources to safeguard their rights and interests.
Of course, labor cost is part of employers' manufacturing costs, not unlike the cost of machinery or raw materials. So a company that encounters financial difficulties and is thus unable to pay wages to its workers should not be seen as a villain denying workers their due earnings.
On the other hand, a company that doesn't repay loan installments to banks or fails to supply goods to buyers in time could be dragged to court and lose a lot of money but may not face the same consequences if it defaults on workers' wages. And this happens because defaulting on wages is neither considered an evil practice nor seen as a violation of business ethics.