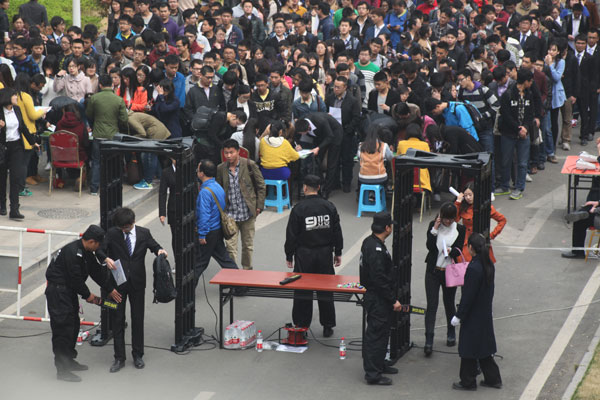 A job fair at Shandong University in March lured nearly 10,000 college students, who are becoming more pragmatic in starting work. ZHENG TAO/CHINA DAILY
China has been taking measures to ensure that the maximum number of youths graduating from colleges every year gain employment. The most recent such measure is one taken by the Education Ministry that allows college students to suspend their studies to start their own businesses. The ministry's move contrasts with its past policies that focused mainly on expanding the size and number of universities.
But such moves will not ease the pressure on the job market, because at the most it will defer by four to five years the time when college graduates need to start looking for a job.
Some students believe that they can increase their appeal in the job market if they earn a higher degree. Therefore, many apply for post-graduate and doctoral studies, without realizing that they will be judged not by their degrees but by their real talent and potential. It is true that some companies recruit employees on the basis of their degrees, but this is going to change as degrees and diplomas lose their sheen.
The past two years could be considered a turning point for the policy of education authorities: from academic lessons to entrepreneurship. But not many students have taken advantage of this policy to start their own business because they have grown up under the shadow of exams, from those to earn degrees to the ones to get jobs. Only 2.3 percent of university students in China choose to launch their own business. In the United States, this number is as high as 20 percent.
Chinese students will not choose to become entrepreneurs all of a sudden because of the change in policy. Instead, the evaluation standards in our education system need to be overhauled to really push college graduates toward self-employment.