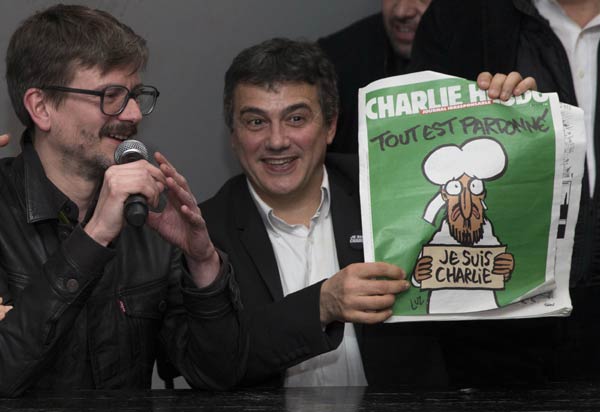 Satirical French magazine Charlie Hebdo columnist Patrick Pelloux (R) and cartoonist Luz (L) show a copy of their next issue titled "Tout est pardonne" ("All is forgiven") showing a caricature of Prophet Mohammad during a news conference at the French newspaper Liberation offices in Paris, January 13, 2015. [Photo/Agencies]
After the terrorist attack on the offices of Charlie Hebdo magazine in Paris, which left 12 people dead and many others injured, the magazine targeted for its controversial Islam-related cartoons, used another Islam-related cartoon on the cover of its latest edition. Comments:
In this case, we decided the newsworthiness of the first cover of Charlie Hebdo since the awful events of last week really made it essential to do it; It kind of outweighed other concerns.
Rem Rieder, editor-at-large of USA Today, which chose to publish an image of Charlie Hebdo's latest cover, Jan 13.
Why do Muslims need to be forgiven? They have done nothing wrong. In claiming to be about forgiveness the cover therefore achieves the opposite, spreading guilt by association. In affirming its 'right' to free speech, Charlie Hebdo has used a blunt instrument to smash apart a genuine moment of hope and togetherness. France will be the poorer for it.
Joseph Harker, assistant commentator at the Guardian, Jan 12