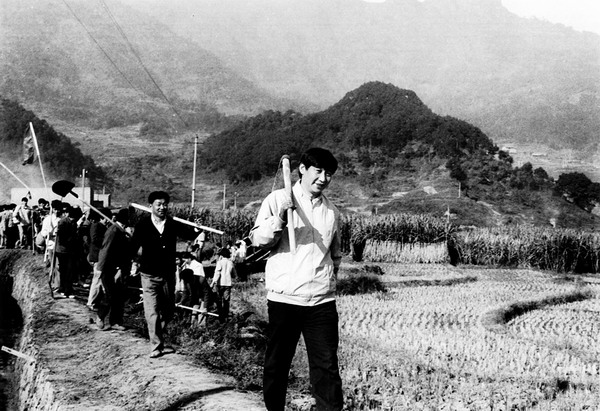 Xi Jinping working together with locals during an investigation tour in 1989 when he was secretary of Ningde Prefectural Party Committee, Fujian Province. [Photo/china.org.cn]
County-level Party chiefs are the "frontline commanders in chief", top leader Xi Jinping has said. County chiefs are often thought of as "sesame officials" who don't have much power, but Xi told 206 county Party chiefs whom he met with in Beijing that their governments have taken on more responsibility in reforms, promotion of the rule of law and the enforcement of strict Party discipline.
By training officials at the grassroots level, the governing Communist Party of China consolidates its governance foundation. In China, only villages and townships are below the county level. Counties play a key role in connecting the grassroots with the upper echelons of the State. They are the joints that link the higher and lower levels of the Party and the government.
China has more than 2,800 counties or county-level administrative regions, and a stable country is the result of the stability of its counties and prefectures. Since China pays great attention to the development of the countryside and small and medium-sized cities, counties have become a major economic engine.
County governance is a mini version of state governance. The CPC is striving to modernize the State's governing capability, and the efficiency of counties has a positive impact on the country's stability.
There is a Chinese saying, "to run the country well, you must first start at the county". Xi's personal experience exemplifies the adage because he was the Party chief of a county in Hebei province in the 1980s.
Xi compared county-level Party committees with the "front-line headquarters", reminding Party chiefs to exercise self-discipline, be loyal to the CPC and serve the people. County officials have been major targets in the Party's anti-corruption campaign. They possess a wide range of powers, and if they abuse that power, they can cause great harm to society.
Last year, the anti-corruption campaign netted a large number of incumbent or former county Party chiefs. The Party is putting a check on county officials' power because it wants them to be honest.
Organized by the Party School of the Central Committee of the CPC, the study program attended by the participants this winter was the first for county-level Party chiefs. The program, which began in November 2014, plans to train all county-level Party chiefs by the end of 2017. Each study program now lasts two months, instead of the one - or two-week training sessions in 2008 and 2010.
Xinhua News Agency