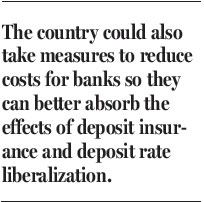 Second, by any measure, despite lower growth in recent years, employment conditions remain robust - with wages growing by slightly more than 10 percent for urban units in the first nine months of 2014, and 10.2 million new urban jobs created in the first nine months of 2014, exceeding the government's targets.
Third, those sectors that are likely to grow more rapidly as a result of reforms are more labor intensive than the heavy industry that has benefited from the credit boom after the global financial crisis. In the first three quarters of 2014, services grew by 7.9 percent contributing close to half of China's GDP growth. This is significant for the demand for labor, as for every percentage of growth in the services sector one can expect more jobs created than the same growth in industry.
Finally, credit growth has been less and less effective in boosting demand. Indeed, whereas before the global financial crisis 1 percent growth in credit was associated with 1 percent growth in GDP, in recent years it needed 3 percent credit growth for 1 percent GDP growth, because much of the credit leaked into asset price inflation rather than real activity. The upside of this fact, though, is that a slowdown in credit growth is likely to have less effect on growth slowdown than before.
What to do if this year's growth were to slow down below what is deemed desirable? China has the policy buffers to do more if needed to keep up demand, including sufficient fiscal space to accommodate a larger central government deficit to compensate for the expected lower local deficits. The country could also take measures to reduce costs for banks so they can better absorb the effects of deposit insurance and deposit rate liberalization. Irrespective, key for China's long-term economic success is that such measures complement rather than substitute for the reform agenda that will sustain China's relatively high, efficient and sustainable growth for the coming decades.
The author is World Bank country director for China.