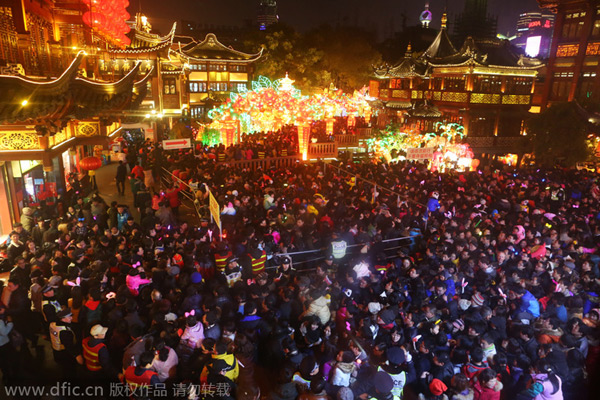 A 2014 file photo shows tourists flooding the street during the Lunar New Year lantern festival in Shanghai.[Photo/IC]
The Shanghai authority said on Sunday it was canceling its famed Lunar New Year Lantern Festival at Yuyuan Garden and a job fair in the wake of the stampede on the Bund on Dec 31 that left 36 people dead. Comments:
If Shanghai has really canceled its three traditional lantern shows just for safety reasons, it would be a big disappointment for residents, and shame for the government. The Yuyuan Park Lantern Festival is a national intangible cultural heritage, and it has been staged for 20 years. It is part of the collective memory of Shanghai residents. If the authority has canceled the activity because it fears another stampede, it is giving up eating for fear of choking.
Zhang Jifeng, a Shanghai resident, Jan 11.
The fast development of the infrastructure in Chinese cities is in sharp contrast to the poor urban management, which should be oriented to meet people's needs. The government's duty is to serve the people, not the other way round. The city government should put itself in the right position, and face up to their inability to meet the needs of the city's fast development. The city authorities should not transfer all the costs of failure onto citizens by simply canceling events or restricting people from attending activities.
Hexun.com, Jan 10.
It is right to draw lessons from the New Year stampede, because the event attracts many people. But directly limiting the number of people is the easiest measure for the authority to take. The authority should figure out better ways, such as making reasonable arrangements for the sites, to avoid stampede.
Zhang Yinan, a human resource manager in a private company in Shanghai, Jan 11.