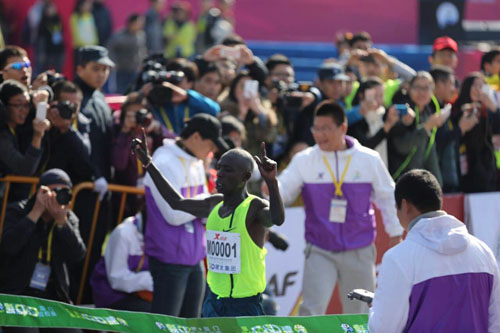 Moses Mosop from Kenya wins the men's race in the 2015 Xiamen International Marathon on Jan 3. [Photo provided to China Daily]
Despite its rising popularity, marathons make headlines often for reasons other than running in China. In 2013, some runners urinating on the Forbidden City walls grabbed the headlines. Last October, Beijing's heavy smog provided critics with a chance to ridicule the degree of intelligence of those who chose to run at the cost of their health.
In the latest case, a marathon was blamed for the traffic jam in Haikou, capital of Hainan province, on Sunday. "The whole city was paralyzed," claimed the local media as they elaborated on how the "nine-hour" traffic control had thrown the tourist city into chaos. The event's sponsorship by a real estate developer added fuel to the public rage, with many saying, "the wealthy could do anything at will" to the detriment of commoners' rights to commute.
The sense of justice displayed on such a broad scale and strong resolve to defend it have left me with a sense of awe.
But wait a minute. I have not seen the same degree of anger unleashed in cities where traffic jams have become a daily normal, when rivers, foods and air are polluted, or in places where farmers' land is forcibly taken away, or homes are pulled down by developers in collusion with corrupt officials. It is surreal to see so many people jump to defend their rights perceivably infringed upon by a few thousand runners.
The critics are phony rights activists. If they really have grievances to air, they are barking up the wrong tree. The runners are not privileged, nor are they egocentric. Some of them don't have enough money to even buy a pair of running shoes. Many have chosen the sport just because they don't have to spend huge amounts of money to participate in competitive sport. They are common people like you and me. They are different only in that they aspire to find a little more meaning in life, a healthy, fraternal meaning.