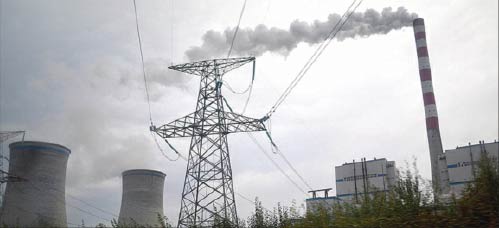 Smoke spewing from the chimney of a coal-based power plant in Qiqiha'er, Heilongjiang province, in September. Electricity companies account for 40 percent of the carbon emissions in China. WANG YUNLONG/FOR CHINA DAILY 
At November's Asia Pacific Economic Cooperation meeting, the world's two biggest carbon players - the United States and China – signed an important agreement to reach specific carbon reduction targets by 2025 and 2030, respectively. Signing the deal is the relatively easy part; implementation will be a significant challenge, particularly for China.
China's extensive coal burning factories and auto emissions are widely blamed for the country's airpocalypse, but one important sector is often overlooked -- China's runaway real estate sector. A staggering 40 percent of global greenhouse gas emissions come from buildings, and China's rapid economic growth and ambitious urbanization plans have spurred equally rapid construction. Within China's reach is one of the biggest levers in limiting carbon emissions: improving energy efficiency within new and existing buildings.
Under President Xi Jinping's new urbanization plan, China plans to build over half of the world's new buildings to accommodate the 100 million people relocating from the countryside to cities over the next six years. As a result, total building energy consumption and commercial floor space are expected to double by 2050. China currently has 50 billion square meters of buildings, and will add two billion more each year. If China's total building floor space were considered a single country, it would be the third-largest energy consumer, behind China and the United States, according to International Energy Agency data.
China can turn this situation to its advantage. While the APEC leaders were meeting in Beijing, the Paulson Institute and its partner, the China Center for International Economic Exchanges (CCIEE), convened leading building experts to develop recommendations that, if implemented, could dramatically improve energy efficiency in the buildings sector. As Hank Paulson, Chairman of the Paulson Institute and former Secretary of Treasury, noted at the conference, "If China is able to reduce the energy footprint of its buildings—commercial, residential and industrial—the savings would be greater in reducing greenhouse gas emissions than those from all other energy-using sectors combined."
Recommendations focused on the need for practical and readily implementable solutions that will make a significant difference. Here are specific steps that China can take:
• Deploy existing technologies: Low-cost technology exists today that could reduce energy inefficiencies by 30 percent or more, according to the Rocky Mountain Institute and Lawrence Berkeley National Labs. For older buildings, retrofittings can yield an energy cost savings payback in about three years. Even installing insulation can yield immediate and significant reductions in energy consumption.