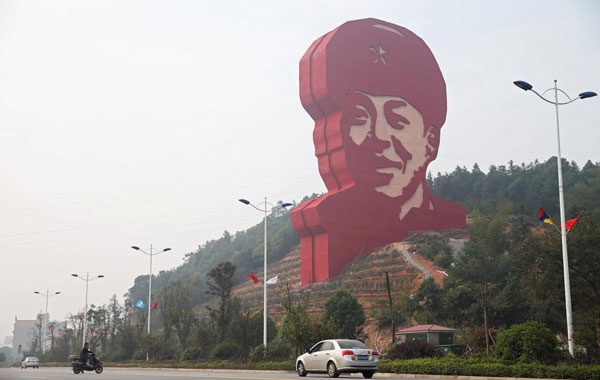 A 30-meter head sculpture of Lei Feng is completed in Changsha, Central China Hunan province, the Chinese role model's hometown.
After the New Year, Li Zhurun, a retired journalist posted on weibo, the Chinese version of Twitter, an apology for an article he wrote in the early 1980s that said "the United States Military Academy (at West Point) learns from Lei Feng". The apology, which admitted the story was false, has created widespread controversy among Chinese netizens about the relevance of Lei Feng as a role model today.
Lei Feng, an ordinary soldier who died in his 20s in the early 1960s, is known and praised by several generations of Chinese people for helping others, and he has long been held up as a virtuous example for others to emulate.
According to Li, in 1981 when he read a United Press International news report that said the students of West Point learned from Lei Feng and the Academy had put up a statue of Lei Feng on campus, he was immediately attracted by the story. And over the past decades quite a few people have heard the story that the students at the West Point learned the spirit of Lei Feng.
Li's apology has reignited the debate that has been taking place in the country over the myth of Lei Feng in recent years. As one netizen commented after reading Li's apology, it feels like a beautiful bubble has burst.
In China, Lei Feng is basically a byword for good Samaritan, and his actions, have inspired many people to help others. The slogan, "learning from the good example of Lei Feng" is familiar to everyone. People can hardly accept the fact that what they once believed was a sign of Lei Feng's international renown was just a made-up story, and it has even made many question their longstanding belief in his selflessness.