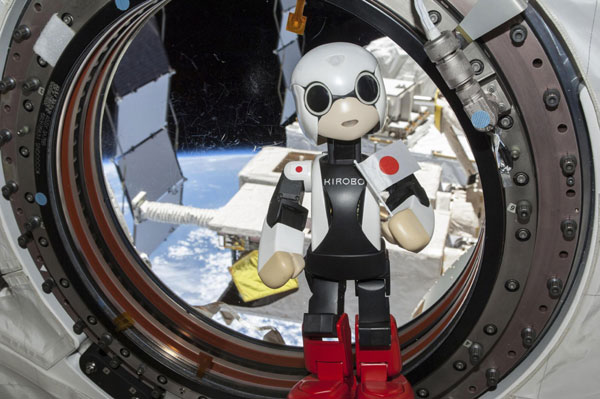 Humanoid communication robot Kirobo holds a Japanese national flag as it speaks a message, during a session to check the success of its first conveyance into space, at the International Space Station (ISS), in this handout photo taken August 21, 2013.
News from Japan's health ministry on the last day of 2014 did not augur well for the country, as the population dropped by a record 268,000 last year.
Japan's demographic crisis is no secret. But that the island country is getting empty at such a fast pace is astonishing.
Three years ago, one Japanese government report warned that should current trends continue, the population would shrink from 127 million to a paltry 87 million by 2060. And 40 percent of them could be 65 or older.
The Japanese government wants to stabilize the population at around 100 million.
To hit that target, the government came up with a simulation, in which Japan needed to begin raising the fertility rate from its current 1.39 - one of the lowest in the world - up to 2.07, and accepting 200,000 immigrants every year starting 2015.
Both approaches are challenging.
Many women choose not to have children for economic reasons, unstable employment statuses or shortages of daycare facilities.
And the Japanese are still reluctant to open their country's doors to immigrants, who are blamed for crime, impolite behavior and untidiness. Currently, less than 2 percent of Japan's population is non-ethnically Japanese. The immigration issue is so politically sensitive that Japanese politicians do not have the courage to face it.
A shrinking, graying population is dragging on Japan's growth, as more elderly people exit the workforce and soak up public services.
The government estimates that Japan faces a 16 percent slide in the size of its workforce by 2030, while the number of elderly will continue to grow. To address what is now being described as a "super-aging" society, the Japanese government and big industry are betting on robots to work miracles.
Japanese Prime Minister Shinzo Abe has taken robots to be a key part of Japan's economic growth strategy, establishing the Robot Revolution Realization Council in June.